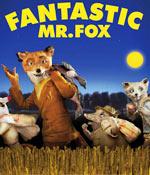 Though it got some of the best reviews of the year -- with some major reviewers saying that it was the film that should win the Oscar in the best animated film category -- Wes Anderson's witty, a bit dark, and mostly dazzlingly colorful The Fantastic Mr Fox did a modest business, grossing about $50 million in theatres worldwide.
The movie did not cost a fortune like films such as Up that were made for over $100 million each. Even then, Mr Fox deserved a far bigger run.
Now the DVD and Blu-ray versions of the stop-motion movie, which many Anderson admirers believe to be his best ever, can give it a raft of fresh viewers. And those who admired it in theatres can have the repeated pleasure of watching it in their homes.
This is the first animated film by Anderson.
Based on a Roald Dahl story, which has undergone quite a bit of revision thanks to the fertile imagination of Anderson, (writer-director of Rushmore and The Royal Tenenbaums) Mr. Fox is embellished by the voices of many talented Hollywood artists particularly George Clooney in the title role and Meryl Streep as his wife. Other featured voices belong to, Bill Murray, Jason Schwartzman, Owen Wilson and the veteran British stage and movie actor Michael Gambon.
The movie was perhaps too quirky for the audiences who have turned several other films based Dahl's work including Charlie and the Chocolate Factory into big hits. But here is a good challenge -- see the Anderson film on DVD or Blu-ray, and see if you can let anyone or anything distract you from this inventive fable.
Here is a film that instantly appeals to children who are above 10 and intrigues the adults by its no-nonsense but vivid story-telling.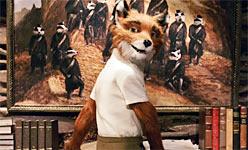 Mr. Fox looks quite handsome but let his look not deceive you. An incorrigible thief, he is also a conflicted character as he is also a family man. But when he cannot resist his old ways of thieving, his family duties take a backseat. He hides his temptations from his wife.
Meanwhile, there is plenty of conflict in the extended family. He has also to face the wrath of chicken farmers who are trying to trap him and other foxes but the farmers are not surely paragon of virtue.
Can Mr. Fox outsmart them?
Among the several moral themes, the one that stands apart is about the choices people are compelled to make as they turn adults and the unforeseen effects of getting what you wish for. In another way, answered prayers bring tears, too.
Extras: This is one of the recent films on DVD and Blu-ray that has just a few extras. But then this whimsical film is so entertaining and exciting, you won't mind the shortage. The documentary, nearly 40 minutes long, on how the film was made is insightful. It brings out the passion in Anderson and his animators.