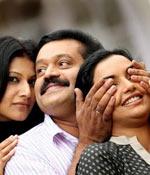 Malayalam film Kadaksham, directed by Sasi Paravoor has generated a lot of buzz mainly because of Shwetha Menon, one of the best actresses in Kerala in 2009.
The film supposedly deals with marital discord (at least that is what the initial scenes and few previews suggested). We see cold vibes between Nathan (Suresh Gopi) and Revathy (Shwetha Menon) while they are on a beach vacation with their only child. Their cold vibes disturb the child.
The child is virtually raised single handedly by her father. She studies on a fellowship in a university in London. These facts do not come easily as the narrative is divided into two plots that are hardly cohesive.
Apart from the story of the couple, the narrative focuses on the story of their domestic help Janaki (Shwetha Vijay), who has an abusive husband played by Jagathy Sreekumar. In Nathan's home, she has to ward off advances by Nathan's father played by Vijayraghavan (surprisingly this is treated as a comic track in the film robbing it of the poignancy it deserves).
The basic flaw with Kadaksham is that it cannot put a finger on the message it wishes to convey. On one hand, it talks of problems in a marriage (as a result of Revathy who fantasises loudly about her former lover while being in bed with her husband) and estrangement. We are not sure whether it is chauvinism on Nathan's part or Revathy's infidelity because nothing is as simple as it seems.
Then there's Janaki's story which flummoxes us further as we have no idea how her story connects to the main story. The effort to tie the loose ends in the climax makes the movie even tackier. The lapses in the narrative only enhance the viewers' frustration. It also seems to be heavily influenced by Lohithadas' Bhoothakkanadi.
Coming to the performances; Suresh Gopi tries to put life into a poorly etched character. Shwetha Menon's role is reduced to be an extended cameo. She comes across as a guilt-ridden woman who tries to immerse herself in education just to escape the aloofness shown by her husband. Shwetha Vijayan tries to pack a punch with uncommon vulnerability and aggression.
On the whole, Kadaksham tries to say many things but ends up saying nothing.
Rediff Rating: