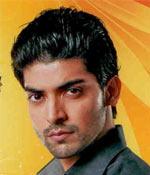 Star One launched two shows last Monday, Geet -- Hui Sabse Parayi and Rang Badalti Odhani, which play at 9:30 pm and 10:00 pm, Monday-Friday, respectively.
Geet -- Hui Sabse Parayi highlights NRI marriage-related problems, which are prevalent in India. The shows tells the story of a young spirited girl, Geet, who is abandoned by her NRI husband, and how she faces challenges and stands for the values she believes in.
Gurmeet Choudhary, better recognised as 'Lord Ram' of Imagine's Ramayan, is playing the role of Mann, a mysterious loner, in the serial.
Gurmeet talks about the show, his character and his upcoming marriage girlfriend to Debina Bonnerjee. Excerpts below.
Is Geet your first television soap?
Yes, I'm extremely choosy about my work. After doing Ramayana and then Pati, Patni aur Woh, I wanted to do something that I had not done before. I play Mann, who is very mysterious and a loner. He is hardly bothered about anything and prefers to keep everything to himself. I would not like to talk much about my character because I am the mystery man in the show.
Actually, for me, playing Ram in the epic was much easier, because I played myself. Mann (in Geet) is not me, so I have to really work hard and it's a big challenge [smiles].
Why are you so selective about the shows you do?
I don't like to do regular shows. Looking at my choosiness, everyone tells me, "You are going to be second Arun Govil," who is also known as Ram of Ramanand Sagar's Ramayan, Vikram of Vikram-Betaal and was quite fussy in doing roles on the small screen after these shows.
But then I always tell them that he was the one who wanted to do such mythological roles. But with me, I like to do different roles. I don't want to be in mythos, but I also don't like to do normal roles [laughs].
Viewers have seen you as Ram and as a romantic in Pati Patni aur Woh. Do you think your 'mysterious' character will go down well with your fans?
My fans have seen my romantic side and now with this show I will be able to offer them something different. I am sure they will love me in this one too.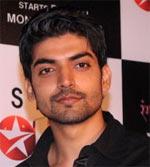 Do people still refer to you as Ram?
I was lucky that audiences loved me as Ram. During that time, people did start calling me Ram. But it was also great that I got to play myself in Pati, Patni aur Woh soon after Ramayana.
My fans immediately saw the real me and realised that I am a good actor. It helped avoid being stereotyped with mythological shows.
But people still do come up and talk to me very freely; they all feel that since I played Ram, I must be a very nice and simple person.
After your grand proposal on national television, when are you finally getting married?
This year for sure [smiles].
What are your future plans?
I just hope this is my last assignment on the small screen, because I have a lot of things on my mind and I want to implement them as soon as I can.
I would also like to show my dancing skills, as few people know that I am a great dancer. I would like to pick up any dance reality shows that come my way.