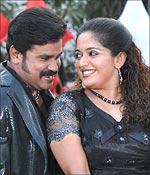 Stardom is heady stuff. It gives you false notions about your standing in the industry and among the audience.
It makes you feel that they will lap up anything you dish out. It is a trap that most actors easily fall into. Actor Dileep is no different in this regard; he has toiled for years to create his own brand of low-brow slapstick comedies and his target viewership is children.
His latest Malayalam offering Paaapppi Appacha (sic), written and directed by newcomer Mammas falls in the same category, where the narrative relies on the antics of the actors rather than the story. The film also has a heavy sprinkling of toilet jokes and innuendos. Naturally the story takes a back seat, which is actually a patchwork of sorts.
Dileep has the veteran Innocent to support him when his antics falls short. And, to add to it, he has got all his lucky charms with him in the form of Kavya Madhavan (making a comeback as leading lady after a brief marriage), music composer Vidyasagar and playback singer Udit Narayan.
The story revolves around a father-son duo who are so attached and friendly with each other that they even attend nature's call together! They are virtual rulers of their hamlet controlling every business from distilleries to hospitals to schools. It is established early on in the film that they are not rich in the real sense of the word. They survive by rolling funds and when they face real shortage, they resort to insurance fraud.
Kavya Madhavan plays Annie, a teacher who works in the school run by the duo. Pappi (Dileep) is besotted by her. But, they are at loggerheads since childhood after Pappi played a prank on her in school. Things come to the boil when Annie agrees to contest Panchayath elections against Pappi.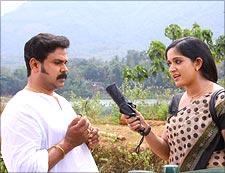 The narrative is as predictable as it gets. In between we have Suresh Krishna as a typical villain Maanikunju. He is backed another rich fellow Shashankan (Asokan).
Dileep digs into his stock of histrionic skills that requires him to cover the whole spectrum of emotions from buffoonery, to the intensity of a misunderstood son and being an action hero.
Kavya Madhavan gets to essay an okay role but, nothing substantial. If you're hoping of the duo's famed chemistry of yore, better forget it.
We have seen Innocent in better roles in the past but to be fair to him, we can just say he is okay.
The revival of Hariharnagar has helped Asokan get noticed by filmmakers. Here he is the dim-witted, rich  Shashankan and he does the job well.
Suresh Krishna in a typical Gounder get-up surprises initially but, it wears off subsequently.
All in all, Dileep may succeed in playing the Pied Piper and may make the kids drag their parents to the theatres in this vacation. The flip side is that the adults will have to sit through the ordeal.
Rediff Rating: