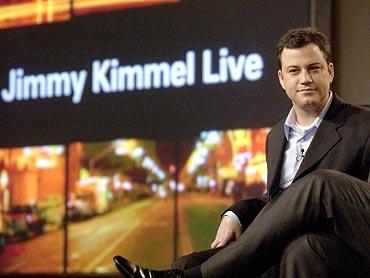 Much has been made of BPO and software outsourcing to India. But now joke writing?
Popular late-night programme Jimmy Kimmel Live!, starring Jimmy Kimmel, debuted a new segment on April 13 based around the host's desire to outsource joke writing to India.
Speaking to his new Indian workers -- played by Indian-born actors Anjul Nigam and Pramod Kumar -- via Internet voice calling service Skype, Kimmel complains that his joke writers have run out of material in the aftermath of the Tiger Woods sex scandal.
The segment received such a strong reception that April 15 it was brought back for a second installment, in which Kimmel told the duo he needed funny material for US Tax Filing Day.
Hilarity ensues when the outsourcers reveal their top joke, "What do a fishing boat captain and Tiger Woods have in common on Tax Day? They both want to know if their crabs are deductible."
The appearances represent yet another prestigious credit for both Nigam, best known for his recurring role as Dr Raj on Grey's Anatomy, and Kumar, who in the past has appeared on prime-time shows like ER and My Name Is Earl.
Photograph: Jim Ruymen/Reuters