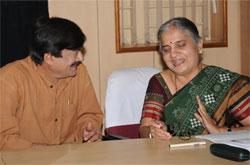 The latest entrant into Kannada films is author and Infosys mentor Narayana Murthy's wife, Sudha Murthy.
She will be a part of Prarthane, a film that intends to highlight the need to save Kannada language and culture.
Though cricketer Anil Kumble was initially considered for the role, the crew later felt that Sudha was the best choice.
Says director Sadashiv Shenoy, "Be it her talking and dressing style or her attitude... she is a Kannadiga all the way. She also writes in Kannada and this was enough reason to choose her for the role. We were looking for someone who had a global reach to spread our message and Sudha Murthy fitted the bill."
The film also intends to question the need for Kannadigas to adopt an entirely new lifestyle after entering the corporate world. "This is one more reason why we chose Sudha. We wanted to tell them that it is not necessary to give up your native identity to make it big in the corporate industry. And there can't be a better example than Sudha Murthy to prove this point."
Sudha plays the role of a reality show judge. She will be seen giving a 20-minute speech in the climax. "She is well informed on Kannada literature and culture and we had a fruitful conversation on these subjects during the shoot," recalls Shenoy. 
Ananth Nag is the other big name involved in the film. He plays a Kannada teacher who is running from pillar to post to save his village school. Lack of government support only aggravates his problem.
"Finally he makes money by imparting dramatic skills to a rich builder. In exchange for a good role in a play, Nag seeks money from the builder and uses it to save the school," explains Shenoy.
Award-winning actor Prakash Raj plays the role of the builder. Mata director Guruprasad will also essay a role in the film. He plays a Muslim driver.
Pavithra Lokesh is also part of the cast. She plays Ananth Nag's wife. She wants their child to study in an English medium school while Nag insists on the child being educated in Kannada. She even joins a computer course and starts earning money so as to enrol her child in an English medium school. This track brings out the raging medium of instruction debate.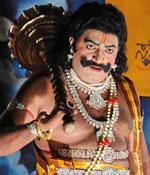 "At least in their first four-five years, children should be exposed to their mother tongue. We are addressing a burning issue and are trying to establish that due to the domination of English, many regional languages are dying. While English is good as a business language, the mother tongue is the language of the heart. While mother tongue is the foundation, other languages are to be treated like friends and guide. They shouldn't be allowed to take over our personality. We can prove our talent using our mother tongue too!" says Shenoy.
If sources are to be believed, super stars from other South Indian languages are likely to be roped in for cameo roles in the film. They will be seen pledging support to their respective languages.  
Prarthane finds its genesis in a UN report that suggested that many world languages including Kannada are on the verge of extinction.
"The death of any language would mean the death of a culture as well. This urged me to make a film and tell Kannadigas that only they can protect their language," concludes the director.
The film is slated for a May end release. There are plans of showcasing it at various film festivals.