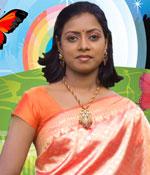 The name indicates a musical instrument; Yazhini, and when she speaks, it is melodious and pleasing to the ears.
Compere of one of Tamil television's most popular children's shows, Pattampoochi (Butterfly), on Makkal TV, she's known for her chirpy demeanour, endless patience and devotion to Tamizh.
After more than 200 episodes, the show still goes strong, winning accolades like the Santhome Award for Best Children's Programme (2008); Yazhini herself is among the top ten comperes in Chennai television.
Excerpts from an interview with her:
How did you enter Tamil television?
I'm a Sri Lankan Tamil, and did my schooling and college in Sri Lanka. I came here seven years ago to study dance at Kalakshetra. Once I finished my diploma course, I began a PG course, but my mother passed away at that time. I couldn't continue my studies. I began to give Bharatanatyam performances, and at one point, I was told to apply to Win TV as a compere. I did, and got the job.
Later, I even got the opportunity to do a thriller serial under Director Naga. It was called Tiles. It was supposedly a treasure-hunt and we spent episodes looking for treasure, but in reality there was none [laughs]. It was a lot of fun. Then, for a while, I was a dance teacher at the Chettinad School, Adyar.
How did Makkal TV's Pattampoochi happen?
I decided I wanted a change, and approached Makkal TV. When I auditioned, they said that my voice was very child-like, and that I would be suitable for children's programmes. And they were right. You need to have a special way of reaching out and responding to children, don't you?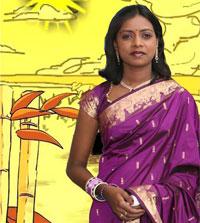 Tell us exactly how you interact with the children.
If I have to do that, then you must play the game with me [laughs]. Now come on, repeat after me … say, I begin a series of birds, insects. I say "Kokku," and you must say, "It flies!"
That's how I introduce animals, insects or birds. You see, it's far more interesting this way, than having to learn about the world around us in a book. Somehow, it doesn't have the same appeal. Memorising things only goes a certain way and it's not much fun just mugging things up. Children need a lot more interaction, the patience and creativity that keeps them from getting bored. Games like these help expand their general knowledge.
The children who call up the programme, have to identify the right animals, birds or whatever category I question them about. You'd be surprised at how many get them right. We often announce prizes for correct answers. That is, if they win the first round and get to the second.
You use chaste Tamizh in the programme. How do the children respond?
Very well. They don't have any difficulty in understanding my speech, or the names I use. They respond in excellent Tamizh! [Laughs]
Catch Pattampoochi on Makkal TV, Monday to Friday at 6 pm.