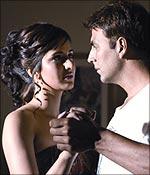 Around 1,000 people are competing in the first round of the UK Bollywood Dance Championships, the winner of which will bag a role in a Bollywood film.
The competition is being held at London St Giles Hotel, which is filled with women sporting saris, jangling gold bangles, bare feet and heavily kohled eyes, reports the Independent.
The hopefuls will have to jump through several hoops to secure their own big-screen role.
Three hundred people will go through to the second round of the competition in May, before the numbers are whittled down to 50 for the final at the O2 Arena in July.