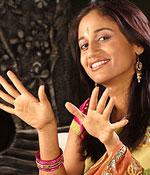 Anu Haasan is the darling of Tamil television and deservedly so.
Vivacious, chirpy and enthusiastic, the scion of the Haasan family (she's Kamal Haasan's niece) has many facets -- actress, talk show host, game show host, model, entrepreneur and martial arts expert. And she has a hunger for more.
In a frank interview with rediff.com's Pavithra Srinivasan, she shares insights on life, her way. Excerpts:
Your talk show on Vijay TV, Koffee with Anu made waves right from the very first season, and is going strong. What was your first season like? What is your modus operandi? 
My first episode was rather nerve racking. I knew that the shoot could have two outcomes -- I might end up offending the guest, or look foolish. While looking foolish is something I do with considerable panache -- I have had a lot of practice, you see [laughs], the former was a matter of concern.
I was also very clear that my strengths were not glamour, or a generally svelte stylish look. So I started off the shoot with a clear idea of what my advantages were not. As I started doing more shoots, I realised that it was irrelevant how I looked. The guests wanted to talk, and more importantly, to be 'allowed' to talk, which I did. I am very clear who the star on the show is. It is not me; it is the guest I am talking to. That was, and continues to be my 'modus operandi,' if you will.
How different do you find the current season, when compared to your first? Do you think the viewer-ship, audience reaction etc, have changed? If so, how?
The elements in each season were changed by the channel and in all honesty, I liked and disliked some of the ideas. But as an anchor, I can only express a certain amount of reluctance to execute ideas. So, I do the best I can with what I am given. Just like life.
There is a steady following for Koffee with Anu, or so I am led to believe. If the forum on the Internet is anything to go by, people like the show as long as the guests are someone they have not seen before.
Also, in the beginning, I did get a lot of comments about my appearance. But when they realised that I did not put too much importance on looks, and that I refused to conform to public expectations if it was something that I did not like, those comments faded away. They have not completely disappeared, but I think people realised it is a futile task to try and remind me that I am not slim or glamourous.
You were among the first to have a proper talk show of sorts on Tamil TV. What was it like, interacting with guests, on a one-to-one basis? 
It is a pleasure to get to know someone who has achieved something in life. I have always maintained that I am very fortunate to be able to be in a position where I can get a synopsis of their life lessons. I have learnt many things from my guests -- humility, pride, patience, how to live life and how not to take life seriously. People assume that simply because I was born a Haasan, I automatically know everyone in the industry. My world has always been outside the film industry, so it was actually a novel experience getting to know the people I was 'supposed' to know!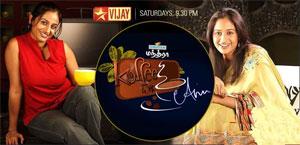 In addition to the talk show, you've hosted a game show on Jaya TV and acted in several soaps as well. Could you share your experiences about those?
The game show was a quiz and it was lot of fun. I interacted with run-of-the-mill people and it was great to see how affectionate they were to me because they liked Koffee with Anu. And when they realised that I am about as normal as the next person, they become even warmer.
My favourite TV serial was Rekha IPS. I loved it because I was a tough police officer beating up the baddies, doing stunts, car and bike chases. The other serials and movies were good at the time because they taught me what little I know about the technical side of shooting and film making.
You've started a cookery show as well -- En Samayal Araiyil. Could you tell us about that? The show seems to be modelled loosely on Nigella Lawson's show. Is it true?
We have finished the series of En Samaiyal Araiyil. At least that is what the director leads me to believe. I loved doing the show; I don't think I will ever pass up the opportunity to do a cookery show. But modelled on Nigella Lawson? Really? I always thought she was stylish and sensuous. You are actually paying me a compliment!
Jokes apart, I don't think it was modelled on Nigella Lawson's show. It was the channel trying to piggy back on the Koffee anchor's popularity and entwine it with the anchor's love for food and cooking. It was a great idea and it really worked while it was on air. I have only had positive feedback about the show.
You started your career as the heroine in Indra (directed by Suhasini Mani Ratnam). How do you think life has changed, since then? What are the roles you're currently working on, in movies?
First off, I don't have a career truly. I just do what I feel like doing. I enjoy acting, so I act if the roles interest me. I enjoy anchoring, so I do that as well, if the concept interests me. I did a series of roles in movies last year for the simple reason that I was dying in all of them. Now that was fun! 
Currently, I am playing a role in Maanja Velu as Karthik's wife, and in Erandu Mugham as Sathyaraj sir's wife. I am usually cast in the 'traditional but strong, firm but loving woman' mould and I suppose I do a fairly decent job of fitting in.
You're a successful media icon. What advice would you offer aspiring youngsters?
The three words -- 'successful media icon' -- are the very definition of transience. To aspiring youngsters I would say, 'Do not work for success. Work so you can do the best you can do.' Fame is so fickle and the happiness from that will never last. Also when you attribute your happiness to external factors, your happiness is always nebulous. Feel happy for the accolades, use the criticism as feedback and improve yourself, but bottom line -- 'don't care too much.'
What are your future plans?
I never plan. After all, life is what happens when you are busy planning. I might do anything. The whole world is your oyster, is it not? I am not afraid of failure. I am not enamoured by success. Life has to be fun and fulfilling, and that is all I look for. If at all I have any plans, I would say I plan on being very happy and contented indeed.