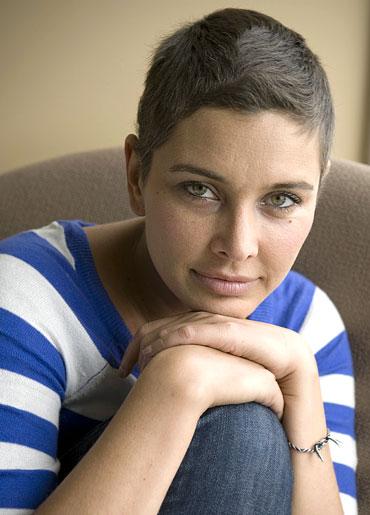 There's good news for Lisa Ray.
Ten months after being diagnosed with a rare form of cancer, the Canadian born actress says she is cancer free, has enjoyed being bald, and is ready to embrace her second home, India, with new vigour.
The 38-year-old 
who starred in Hindi movies like
Kasoor
and
Water
was photographed by Reuters in Hollywood where she showed off her new look as a result of treatment consisting of chemotherapy and stem cell transplant.
Fittingly, her recent movie, Cooking with Stella, opened the Indian Film Festival in the city as a benefit for the Los Angeles-based Institute for Myeloma & Bone Cancer Research.
Lisa said that she didn't react after learning that she had Multiple Myeloma, a rare form of cancer. She told fans she learned of her disease in June last year and started her first cycle of treatment weeks later.
In her blog, she wrote that when she got the news, 'I didn't react and I didn't cry'.
'That's how I felt after the diagnosis. Ok, I've got The Cancer. The tough part is over', she had added.
Lisa further wrote in her blog: 'Myeloma is incurable... I believe it can be cured... That's the Dirty Realist in me...I'm aiming for Full Remission...I am humbled and inspired.'
Looks like her grit and determination finally paid off. Hats off to you, Lisa!
Photograph: Gus Ruelas/Reuters