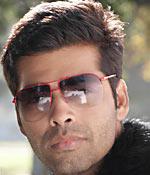 It came two months after 3 Idiots, but the DVD of My Name is Khan is already out in the market.
At the DVD launch in a suburban bookstore in Mumbai, filmmaker Karan Johar, sans Shah Rukh Khan and Kajol, the film's leading pair, showed some of the deleted scenes that have been added to the DVD.
Nithya Ramani presents excerpts from the Q&A session:
Why did you decide to have an English title for a Hindi film?
I think the words 'My Name is' have become Hindi. Nobody considers it English. Everyone understands what it means. It is just like good morning, good night and hello. To me, it was never an English title.
Do people use English titles for convenience? It seems to be the new trend now.
We have reached a point where any Hindi title will sound used. I am going through a crisis now on what to title my Stepmom adaptation. I have asked people for help. Any title I suggest, people reject it.
I suggested Ghar Parivaar; it sounded like a TV soap. Ghar didn't sound right, neither did Khaandaan, Hum Parivaar, Hamara Parivaar, Hamare Tumare. If I made a film with such titles who would watch it?
I agree that English titles put off certain audiences and since we make movies for the wider audience, we are going through a crisis. (But) India's highest grosser 3 Idiots has an English title. I think people do relate to it.
Karan Johar is known for a Kuch Kuch Kuch Hota or a Kabhi Khushi Kabhi Gham, but off late your films have been different. Will we get to see another Shaava Shaava or a Mahi Ve?
If I do another Shaava Shaava, I will be killed. I have outgrown that. Since I have done it in 40 songs, I wouldn't be doing something new.
I would love to go back and do something fun and entertaining, but that doesn't mean I would do the same visuals and texture as before.
It is important that I challenge myself. I have been abused for doing the same kind of film. But in the last few years, I have broken the shackles.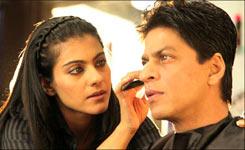 What is your favourite dialogue from your films?
'Kuch kuch hota hai, tum nahi samjogi.' I don't know what it means even now. It just fit the title and we used it in the film. It just worked at that time.
The recent concern of directors and producers is that there are no good writers. Do you agree?
I believe that we need to empower our writers. If somebody gives me a wonderful script, I think it is invaluable. Off late, filmmakers write their own scripts; this has become the trend. But I don't like to write my own scripts. I like somebody to write it for me.
What is the status of I Hate Love Stories?
The film has the kind of songs you were asking for, but with a different treatment. It is almost like we are making fun of ourselves. I am very excited about it. Imran [Khan] and Sonam [Kapoor] make a very fresh pair and look good with each other.
Have you watched Phoonk 2?
No. Meine na Phoonk dekhi hai, na Phoonk 2 dekhi hai, and I am sure Phoonk 3 toh banegi nahi (I haven't watched Phoonk nor Phoonk 2, and I am sure Phoonk 3 will not be made.)
Are you having any second thoughts about hosting the IPL awards?
Not at all. I think IPL is one of the most entertaining brands and I am very proud to host it.
What next?
I don't know. I am taking my time to breathe post My Name is Khan. I am planning to take a short vacation, but once I'm back, I might have something in mind.