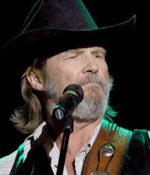 Whether you are watching the just released DVD and Blu-ray versions of Avatar or not, you may want to make time for a much smaller but a more stirring film, Crazy Heart, which hit the DVD and Blu-ray markets this week.
The film, produced for $7 million (a laughable figure in Hollywood), grossed a healthy $50 million worldwide, thanks mainly to its two Oscar wins for acting and song.
It is a slow moving and yet emotionally engaging film about a down and out country singer Bad Blake, an alcoholic, who seeks redemption following a traumatic incident involving a small boy .
Though he makes amends for his thoughtless behaviour, he still has to live with the reality that he cannot woo back the boy's mother, the woman he had been dating for a few days.
The movie brought the veteran actor Jeff Bridges his first Oscar but it has more than one solid performance. First-time writer-director Scott Cooper extracts sensitive performances from Maggie Gyllenhaal as the single mother (she was also nominated for an Oscar), and an uncredited Colin Farrell as the prodigy who learned a lot from Bad Blake and whose career goes up just as Blake hits hard time.
Cooper said in an interview that he trusted his artists and offered them the briefest explanation.
'As a first time filmmaker you surround yourself with the best and learn from each of them,' he said. 'You try and give them an arena where they can feel very comfortable and relaxed and can do their best work and discover. That's all I sent out to do and give them the blueprint to do that and it turned out well.'
Bridges also contributed to the soundtrack; his singing has a sincere touch and adds enchantment to the score. This is the kind of small film that deserves attention and several viewing. But it surely is not meant for the audiences who want everything to be brisk and hard-hitting.
Extras: The DVD version could have done much more than the deleted scenes that are about 10 minute long. The Blu-ray edition too does not offer many extras, though the alternative music cuts will appeal to many viewers who have sharp ears. Nevertheless, the movie alone is worth watching several times. With an awesome soundtrack and sterling performances do we really need many extras?