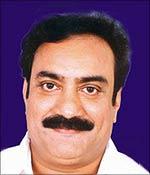 Popular Malayalam film and television actor Sreenath was found dead in his hotel room in Kothamangalam on Friday with his wrists slashed.
The actor who was in his early 50's was shooting for the Mohanlal starrer Shikari in Kerala when the death happened. The police have not ruled out suicide as the wrists were slashed, though a note was not found.
Sreenath, who began his film career in 1978 with Shalini Ente Kuttukari went on to do several other films, including superhits like CBI Diary Kurupu, Jagratha and Kireedam among others.
The actor had lately been busy working in TV serials and had also received the Kerala state award for best actor for his work on the small screen. He is survived by his wife and nine-year-old son.