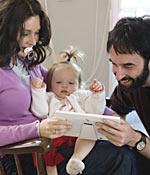 The rains did nothing to dampen spirits at the opening night of this year's Indian Film Festival of Los Angeles on April 20. The festival closes on April 25.
The smell of butter popcorn filled the air at the ArcLight Hollywood, a state-of-the-art facility in Los Angeles, which otherwise appeared decidedly Indian, thanks in part to the many people in traditional Indian garb.
The rain had driven the red carpet indoors but there were enough celebrities walking down it to make anyone who felt cheated feel better.
Among those who walked the red carpet and happily posed for pictures were actor Lisa Ray, who declared herself cancer free ten months after being diagnosed with a rare form of cancer, and director Dilip Mehta (Cooking with Stella), Omi Vaidya (3 Idiots), Aditya Bhattacharya (Ashes to Ashes), Mary Murphy (So You Think You Can Dance?), and Jeff Doucette (Desperate Housewives).
Ray and Mehta were particularly pleased that their film, Cooking with Stella, was kick-starting the festival.
About the film, Lisa said, "I'm not the cook, Seema Biswas and my co-star Don McKeller are, but it's a very sweet film."
Praising the festival, Anjoo Khosla, who made Wahid's Mobile Bookstore, a short documentary, said Indian audiences' perception towards a film changes when it returns from a well-known film festival like the IFFLA.
After the screening of Cooking with Stella, the attendees mingled over wine and Indian fare.