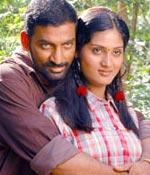 Jeyamathi Picture's Tamil movie, Bayam Ariyaan (He Who Knows No Fear), directed by Pratheesh is a classic example of a script that looks good on paper, has a reasonably good cast but ends up going nowhere.
It's the story of the season: gang-war, in which the don of the area (Ponnambalam) rules the roost, gunning and knifing men according to the moolah he receives. Bang in the middle arrives another gang which cleanly robs him of the money and flattens him in the process. Turns out that the gang in question is headed by ruffian Vinodh aka Koni (newcomer Mahesh Raja) and is hunted hotfoot by the police (Kishore).
Koni is the despair of his long-suffering mother Saraswathi (Saranya) who slaves away through sickness and ill-health for her son's happiness; not that this has any effect on him. And just when you think Koni is just another toughie who sits on cemetery walls, comes another surprise; he's in cahoots with the very same police officer who's supposed to be hunting him.
In the midst of all this are numerous titillating episodes which have nothing very much to do with the story, save one purpose: introduce Nivedha (Udhayathara), with whom Koni falls in love. The sequences where he first eyes her, and approaches her in a brash fashion are genuinely funny.
That's the most that can be said of the movie, though. Everyone in the cast has tried their best to introduce some spirit – Mahesh Raja, with his rugged looks does well; Kishore is sufficiently menacing while Saranya, with her worn-out face, has done marvelously. But what's the point when the screenplay simply dithers amateurishly, with dialogues that make you either yawn or squirm? It's a hotchpotch of scenes, with no finesse.
P C Sivan's songs are ordinary; their picturisation is inadvertently hilarious. The background score, however, is marginally better.
Bayam Ariyaan could have been a watchable film if the director had come up with an engaging, logical screenplay, instead of just playing to the front-benchers. The end product is amateurish.
Rediff Rating: