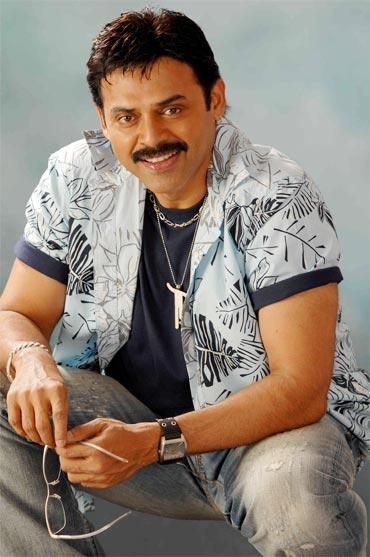 Remakes and sequels are aplenty these days and people just seem to be waiting to snap a good film or continue a story.
Now the hugely successful Kannada blockbuster Aptharakshaka, the sequel to Aptamitra (inspired by the Malayalam classic Manichitrathazhu directed by Fazil, which was later remade as Chandramukhi in Tamil by P Vasu) starring the late Vishnuvardhana is ready for a Telugu remake.
'Victory' Venkatesh will be playing the hero's role and P Vasu is said to direct the Telugu version produced by Bellamkonda Suresh. 
Asked why he accepted the film, Venkatesh said, "I have always been doing these kinds of films. This had the investigation and suspense angle to it, and it was the right genre to do. I am also at mature enough to do such films. It was not the regular routine stuff but had different emotions. The genre was appealing. I also felt it was the right time to give a different film and the audience wants films like this."
The P Vasu-Venkatesh combo had already the hit Chanti.
"Chandramukhi 2 (as the film is now called) will be adapted to the Telugu audience's taste. I was looking for different scripts, and as this movie starts off on a different note, it appealed to me. It's gripping and everyone is following the character. There is a lot of suspense. I liked the film," said Venkatesh.
The fact that Aptharakshaka is a super-duper hit doesn't deter Venkatesh. "We shouldn't think that it is a big hit. We should go with an open mind. It is interesting and fresh and will get the family and children to the theatres. Children watch such films and it is not a horror film."
The shooting of Chandramukhi 2 is likely to begin after May 10. The film will be shot in Hyderabad, Vizag and all over Andhra Pradesh and parts of north India.
"I am looking forward to it," signs off Venkatesh.