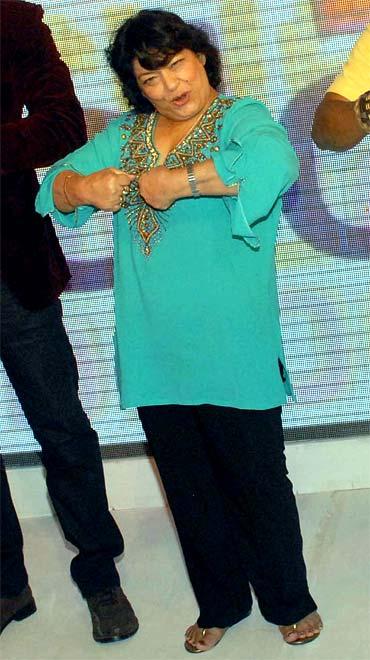 Ace choreographer Saroj Khan, who has made almost all top Bollywood celebrities dance to her moves, is judging a reality show Chak Dhoom Dhoom on Colors which starts April 30.
She talks about her experience of judging the kids and her Broadway musical. Excerpts:
How was your judging experience in the audition rounds?
Superb! The kids are very talented, gifted and considering their age, really scary! All of them wanted to be different from each other and to be the best. Their spirit is admirable. It is very difficult to reject kids and see the sadness they go through, but we had to say 'No' to some. We will ensure that we do not break the hearts of these children.
You are known to be a very strict teacher. Are you going to be strict with the kids?
I am strict with the adults who claim to be good dancers and perform wrong steps and mudras. So I correct them. That is my duty and I will always do that. During Nach Baliye you must have seen how celebrity couples improvised and transformed into good dancers. Correction is very important and I don't care if someone doesn't like that. But with children, we have to very cautious and sensitive.
So what will be your judging criteria?


I will look at the grasping power of a child and also how they have learnt the dance. Are they natural dancers or have they learnt from someone or learnt just from watching television. It is easier to teach kids because they are soft as clay and one can easily mould them.
Did you follow Dance India Dance [another dance reality show]?

I followed the first season of Dance India Dance which was very good. The second season was more about stunts. The contestants were dancing to romantic numbers while doing flips. It had become little boring for me.
Do you like any contemporary dancer from the current actors?
I don't watch any new Hindi movies. I watch only if the film has Aamir Khan in it. He doesn't act in any stupid film. He does lot of research before taking up a film and it's worth watching. The only film that I have watched more than once is Munna Bhai M.B.B.S
Looks like you have lost weight...
Yes. My doctor warned me that if I put on another 10 kilos, I am sure to get a heart problem. So I zipped my lips. My dance is also helping me lose weight [smiles].

We hear you are planning a Broadway musical. Can you tell us more about it?
It's a musical focusing on the famous court dancer, Amrapali. I am planning to bring my first Broadway musical in October with South actress Udayabanu. She is a replica of Sridevi.
Bollywood numbers are quite popular abroad. I have been planning this for a while now and my original choice for the role was Madhuri Dixit. I had spoken to her and her secretary and everything was going as plan. But in the end things didn't work out.
I had approached Javed Akhtar to write the script but he quoted such a high fee that I could not afford him. Now Atul Tiwari is writing the script. We plan to stage the play in London and a tour later on.
Photograph: Pradeep Bandekar