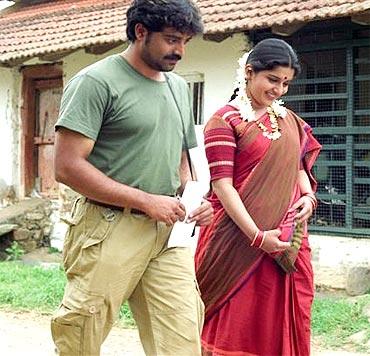 M S Sathyu, who won international acclaim for his  Garama Hawa, is all set to present Ijjodu (The Incompatible). 
He is getting back to direction after a gap of 12 years with this Kannada film starring Anirudha and National Award-winning actress Meera Jasmine.
Ijjodu is Sathyu's ninth film. It is based on Kannada short story Naanu Kanda Hudgi and another one written by Masti. The film releases on April 30.
Ijjodu tells the story of Chenni, who is made a basavi (Basavis are like devdasis often end up as sex workers.) to be offered to her village deity in order to save the village from an epidemic. The story progresses as Anand, a photographer comes in contact with Chenni.
"I come to this village as my vehicle breaks down near it," says Anirudha who plays Anand.
While exploring the village and taking photographs of monuments, he comes across a temple in which an age old superstitious custom is being practiced. "I meet Chenni here and after a while realise she is a basavi. By then I develop feelings for her."
The entire film was a learning experience, shares Anirudha. "Still photographer Nimay Gosh is a store house of information on Stayajit Ray as he has worked with him. Cameraman Baskhar is also well informed. Basically everyone on the sets was well versed with the language of cinema. There were innumerable discussions on world cinema; there was never a dull moment. In fact there was a very theatrical atmosphere on the sets; I totally enjoyed being a part of the film."
Manikanth Kadri, son of famed musician Kadri Gopalnath is the music director. Speaking about the film's music, he says, "I have always tried to be applauded by my father and with this film I think I've achieved that. It has been an achievement to work with Sathyu Sir."  
Though a Malayali, Meera Jasmine who plays Chenni has dubbed for the film as the film was made in sync sound.
The shoot took place in Hassan district.