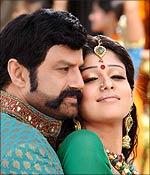 One knows what to expect from a Balakrishna film and Simha is a perfect example of that: a true mainstream entertainer catering to the masses with high-voltage action, overdose of violence and the mandatory songs.
Balayya is back in full form bashing away the baddies as if it's child's play in this Telugu movie. Director Boyapati Seenu has ensured that Balayya's fans have their share of enjoyment.
The story goes like this: Sriman Narayana (Balakrishna) is a teacher (though one hardly sees him teaching) at a college where everyone is terrified of him. He is one of those guys who can't stand evil deeds, women being treated badly and injustice. If he's annoyed by anything, he turns beastly and beats up people.
His grandmother (K R Vijaya) is fed up of looking for matches for him and warns him not to indulge in violence to help people. But Narayana thinks otherwise. An English lecturer (Namita) starts liking him. A Sanskrit lecturer (Venu Madhav) loves Namitha and this is one of the comedy tracks in the film (the other being Ali's and Brahmanandam).
Janaki (Sneha Ullal) enters Balayya's life and then the story takes a turn in the second half. It rewinds to the past which has a bearing on the present. Both Janaki and Sriman Narayana's lives are linked. The rest of the film is more or a less a revenge drama.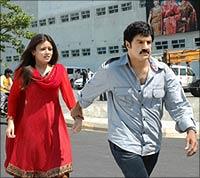 The first half of Simha is lighter to some extent, with some humour, romance and entertainment as compared to the second half which is violent.
The director has churned out the usual story with the regular staples. At times, the logic in the screenplay goes for a toss.
But it's the large doses of violence and even some of the dialogues (which accentuate the violence bit) which are hard to digest. It's excruciating to watch the blood and gore and one wonders whether the Censor Board slept through the scenes.
Balakrishna has put in a restrained performance. Though his character is supposed to roar at times, he seems subdued most of the time. But he's given plenty to be pleased about as it is his show all the way.
The heroines Nayantara (who doesn't have much of screen space), Namita and Sneha Ullal are merely add-ons to provide glamour to the essentially Balakrishna fare. A plump Namita with her rather appalling dresses does not look good while Nayantara looks grand in ethnic wear. Sneha Ullal looks pretty but rather wooden.
Overall Simha is a typical Balakrishna film which only his fans can cheer about!
Rediff Rating: