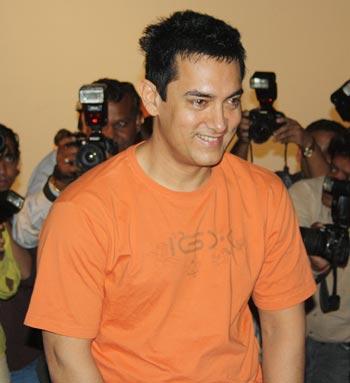 In the Indian subcontinent, he's a larger than life superstar, one of the unquestioned leaders of Indian cinema and a hero to over 1 billion people.
No wonder Aamir Khan loves New York City: it affords him the anonymity he could never find in India!
The Wall Street Journal reports that Khan, who was in the Big Apple to promote his latest production, Peepli Live (watch the video here), said of New York, 'I walk on the streets and I can be who I am. I can freely ride the trains and buses.'
Khan was at Chola, an Indian restaurant in Manhattan's famed midtown area, signing autographs. After professing a love for New York's anonymity, he was quick to admit his international fame has its benefits, even in a place like New York.
'I never have to pay for a cab. The drivers are all Indian and Pakistani,' he said. 'They know my films.'
At Chola, Khan, 45, was reportedly offered a banquet feast worth of unordered dishes, like eggplant, garlic naan and fried pakoras. But the 3 Idiots star is said to have stuck to tandoori chicken and paneer, on account of "avoiding carbs."
Getting in shape for Dhobi Ghaat, wife Kiran Rao's directorial debut, in which he'll star? Perhaps!
But, then again, with Bollywood's maverick, you can never be quite sure.