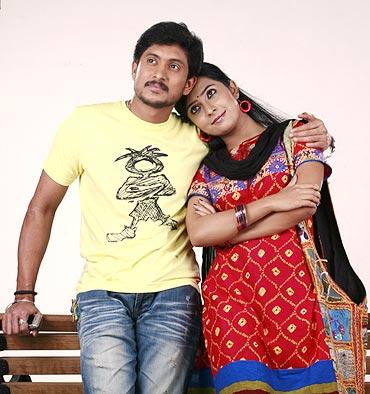 Motivated by the positive response to Krishnan Love Story, director Shashank is planning a sequel to the Kannada film.
"As part of our post release activities, my team toured the state and most people wanted justice to be done to Krishna, the hero. And this made me think about a sequel," says Shashank.
The film is about a heroine who ends her life following a series of unfortunate events, leaving the hero to suffer for no fault of his.
"Since this film was largely based on a real incident, people are even more curious to know what happened to the real life 'Krishna'. I told them that the girl, unlike in the film, is married to someone else and Krishna has moved on. But they want to know how he came out of depression and this aspect may become the focus of my sequel," says Shashank.    
A remake of the film in Telugu and Tamil is also on the cards.
"I have been offered to direct the film in both the languages and am in talks with the production houses. Once they agree to my terms and conditions, and am given a clear picture about the cast, I will go ahead," says Shashank.
But given a choice, whom would he wish to direct?
"Tammana will suit the role well. She is not only popular in both the languages, but also a good actor. I need someone with that amount of experience to carry off the role," he explains.
However he feels it would be appropriate to cast a newcomer as the hero. In the original, Radhika Pandit and Ajay Rao were the lead pair.
Ask if there will be changes given that there has been a mixed response to the film's tragic ending and he says, "But I don't know if the film would have generated the same effect if it had a happy ending. It's just that the heroine's character is very adorable and due to this, many people cannot digest her death.
"While there are people with whom the ending did not go down well, there are also people who appreciated its realistic appeal. Renowned film maker Girish Kasarvalli congratulated me for my realistic narration. Further, I also wish to explain that her death is more of a sacrifice rather than a suicide. She dies not only due to guilt but also with an intention to end the hero's pains.
"Having said this, I will still keep both the positive and negative reactions in mind if I direct the remakes. I want to feel the pulse of the audience in both the industries and take into consideration the image of my lead actors and then decide. In fact such a change happened with Vinnaithandi Varuvaya. While the Tamil version had a sad ending, the Telugu one ended on a happy note. So let's see. "
In the meanwhile Shashank will be directing an action film in Kannada soon. "The cast will be finalised in a week's time and then I will reveal more details," he says.