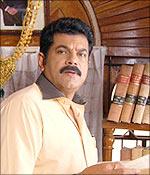 Paresh C Palicha reviews the Malayalam film, Advocate Lakshmanan Ladies Only
There was a time when people queued up outside theatres to watch Malayalam films starring a leading comedian as the protagonist. Usually, they got their money's worth. But for Malayalam film Advocate Lakshmanan Ladies Only, starring Mukesh, there were hardly a couple of dozen people at the ticket counter.
The film is about an advocate, essayed by Mukesh, specialising in divorce cases. He 'liberates' women from their boorish and violent husbands and gives them employment in his pickle factory named Ladies Only. He is willing to go to any extent to win the cases, and has amassed a female fan following that would be the envy of any film star.
Among the fans, is a woman who makes anonymous phone calls and claims to be in love with him. The turning point comes when her mystery is revealed. She complicates the hero's life with her problems, and the rest of the film is about how Advocate Lakshmanan frees himself from the tangle and wins back his lady love.
The female lead is Mallika Kapoor and the ensemble cast includes Jagadheesh, Harisree Ashokan and Suraj Venjaramoodu. Ashokan, the villain, does nothing to impress. A legion of junior artists has been used to fill the hollow premise.
The production value is tacky. This could have been ignored had the writing been good. K S Padmakumar's dialogues and the situations will make you squirm.
So, it falls on Mukesh to salvage this crass project, but it is too much to ask of him.
Rediff Rating: