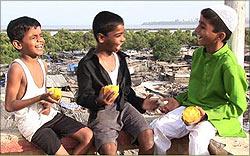 The atmosphere was tense. While this was no India-Pakistan cricket match, the Inter-Basti 20:20 championship trophy was to be one of the most important T20 cricket matches ever played.
The trophy? A mixer-grinder.
Given the intensity of rivalry between the two teams, the Man of the Match trophy should have been a Mercedes. It was, in fact, a bicycle -- far more useful to a slum kid than a fancy imported car could ever be.
The captains of the warring cricket teams came forward for the toss. The spectators watched with bated breath. The umpire looked for a coin in one pocket, but it was empty. Then, he put his hand in his other pocket. That was empty too!
I was watching Cricket Match, one of the stories told in Jadui Pankh -- a film about a street kid, Guru, who sets out to make a film with just Rs 101.
His movie comprises seven engrossing tales told by children like him. The first story was of Raju and Kaju, two street magicians who foil the nefarious plans of terrorists.
Jadui Pankh, after which the film is named, was about a magical peacock feather that a young boy, Ali, finds... And yet another, Netaji, was the story of Durga who fights her evil uncle who wants to sell her off, with the help of her naari sena (women's army).
The stories were barely 20-odd minutes long. Although they were set in slums, their tone was light-hearted, almost frothy in feel.
"We've all seen films about slums that dwell upon the filth, poverty and often desperate struggles to survive there," said Nitin Das who'd made Jadui Pankh.
Such films, Nitin believed, often achieved the opposite of what they set out to do. "Instead of drawing more people like you and I to offer our time, creativity and resources to people in slums, they foster a fear that a slum is too dirty a place to visit...," said he.
Instead, Nitin focused on the fact that although these slum children are poor in monetary terms, they're very rich in emotions, friendships and talent.
"Through Jadui Pankh, I wanted to tell urban, educated viewers that interacting with slum children could be an enriching experience for them too," said he, adding, "I wanted to show viewers that even in the darkest times and difficult situations, one can find happiness, friendship and hope..."
This maverick filmmaker has an interesting past. An IIM Lucknow alumnus, he soon realised that corporate life wasn't for him.
"I just hated black leather shoes!" he quipped. Instead, he did a filmmaking course in New York and on returning, began volunteering with some Mumbai NGOs.
"Six mad, creative months of theatre workshops with the kids in slums, and I realised they were a goldmine of talent! Hence, the idea of Jadui Pankh was born."
Nitin received a couple of corporate sponsorships from Nokia, Deutsche Bank, HDFC and others -- enough to cover the cost of the film. Instead of going through the usual marketing channels, he decided to market the film exclusively online, on a pay-per-download basis.
"50 per cent of the profits from this film shall be used to support children in vulnerable situations," said he, "and I hope it does its bit in showing people like us that slums too can be interesting places!"
Jadui Pankh has been selected for the Munich International Film fest, and the Leeds UK film fest. But Nitin wants more -- "I really want my film to go mainstream, maybe on children's TV channels -- but they've not shown any interest yet," he rued.
Maybe what he needs is a wave of the Jadui Pankh...