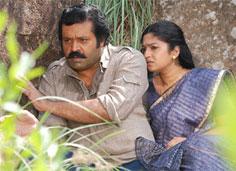 Paresh C Palicha reviews the Malayalam movie, Raama Raavanan.
Raama Raavanan directed by Biju Vattappara is based on a story by Madhavikutty (Kamala Das). It stars Suresh Gopi in the lead.
Raama Raavanan is the story about an LTTE ideology and a Sinhalese girl. Though the subject is interesting, the way it is dealt with is not.
Thiruchelvam (Suresh Gopi) is a revolutionary poet who has inspired a lot of youngsters to join the Tamil cause in Sri Lanka. He even justifies the violent uprising and his part in it.
Minomi (Mithra Kurian) is the daughter of a Buddhist priest who is virtually raised by her Tamil neighbour Annadurai (Nedumudi Venu). He treats her like his own child. Annadurai returned to India when the conflict began. Now Minomi has come to stay with him as her father has become a victim of the conflict. But the situation here has changed; she is unwelcome to Annadurai's own children; one of whom openly supports the Tamil cause.
Now, you may wonder where the love story fits in here. So, to make the two meet, an injured Thiruchelvam who seeks refuge in Annadurai's abandoned ancestral home with the help of his son, is discovered by Minomi. She nurses him back to life and predictably falls in love with him. Annadurai tries to dissuade her by saying that Thiruchelvam has killed her father. But she claims that being Buddha's daughter, she can forgive him.
As this worn out yarn unfolds, we find that there is no intensity in the plot or the performances. Everyone except Nedumudi Venu seems to be sleepwalking through their parts. Suresh Gopi, who supposedly has to be brooding; stretches himself too much for his own good. Mithra Kurian as the chirpy youngster who falls into a doomed relationship does not have enough spunk to carry it off.
In the end, Raama Raavanan fails to deliver despite an interesting plot.
Rediff Rating: