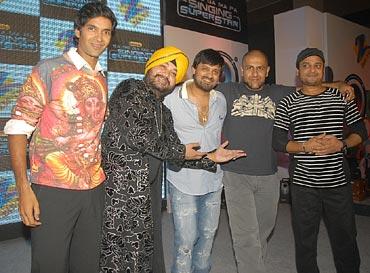 Zee TV and Hero Honda's popular show Sa Re Ga Ma Pa Singing Superstar is ready to rock with 18 contestants selected by judges from 165 auditioning centers.
The judges this time comprise of singer Daler Mehndi, musicians Vishal Dadlani, Shekhar Rajviani, and Sajid-Wajid.
Rock On! actor Purab Kohli has been roped in as the host for this season.
After the success of the hit high school series, Hip Hip Hurray on Zee TV, Purab is all set to don the mantle of a host.
Over to Purab.
Is there any kind of pressure on you because Aditya Narayan (previous host) was very popular?
No. Honestly I haven't seen Aditya in action but I think his biggest advantage is that he is a good singer. I think that definitely puts him in a greater position to host the show. But I think what they are looking at right now is something different. And I think this is why they decided to go with me. I will do it in my style and have fun. I hope it will work for the show.
What you will take home from the show?
I am a music buff. I want to be a singer and learn a lot about music. I am lucky to be a part of such a huge music reality show, which will give me more exposure than any film.
Its also an opportunity be around the singers who are having their own struggle. I also want to achieve so much in life. By sharing the stage and energy together we all will grow.
Do you think with a co-host you can have a better interaction?
I am going to be a spokesperson for the 18 contestants. I think there will be lot of interaction with them and the judges. I guess a pretty girl would be nice like Julia Roberts [winks].
You started off as an aspiring pilot, then TV actor, VJ and then finally films. How was the whole experience?
It has made me grow as a person. Acting, especially changed my life.
How do you feel about Hip Hip Hurray?
Have you ever seen any other show like Hip Hip Hurray? There were shows like Just Mohabbat, but Hip Hip was phenomenal. We were 14 kids going to college and would shoot only on the weekends. There was nothing like junior or senior artists, no egos at all. I think that is one thing that worked for the show.
Any possibility of a sequel to Hip Hip Hurray?
UTV tried a sequel but I wasn't a part of it. It had some actors from the inaugural season, but it didn't do too well. Some of the actors have been thinking over the idea of bringing a sequel to Hip Hip in the recent times and show what's happening currently in the lives of the kids who have now grown up. Vishal Singh was the one who came up with this idea and we had a couple of meetings but things haven't gone too far, as everybody has a different agenda in their lives [smiles].
We see you on TV on and off. Why is that?
To be in the news you need to something and TV is the best option for that. I have earlier been associated with a music channel for a long time but haven't really hosted a reality show. This is a relatively new format for me.
Any favourite anchor on TV?
Mr Amitabh Bachchan. He does a good job. I am looking forward to see him on KBC-4. I really liked Salman Khan on 10 Ka Dum too. He is superb.
What are your upcoming projects?
I am doing a movie called Turning 30 by Prakash Jha productions. Then there's Shard Kattaria's Mocktail and another film I Am.
Image: Purab Kohli, Daler Daler Mehndi, Wajid, Vishal Dadlani and Sajid.
Sa Re Ga Ma Pa Singing Superstar starts from August 13 at 9: 30 pm on Zee TV.