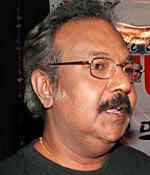 He's among the most celebrated playwrights in the history of Tamil drama; a consummate actor with a genuine gift for humour and a knack for combining social issues into intriguing stories, which had the audience rolling in the aisles with laughter while simultaneously stimulating them.
When he entered the considerably bigger world of cinema, he met with success there as well. The recipient of many honours and awards, he was welcomed with open arms on the small screen too.
Meet Mouli as he chats exclusively with rediff.com, blasting his way through thoughts on his work, life and TV. Excerpts:
Having worked on the stage, movies and now TV, what's your take on TV serials?
It's a completely different ball-game. I don't do a lot of my work [on TV], but it's certainly very unlike movies and the stage. Here, it is the script that takes centre-stage. The artists play second-fiddle, except in serials like Nadhaswaram which are genuinely different.
The primary requirement in serials seems to be predominantly good looks. All that seems to matter is you should fit a certain stereotype: say a "mother" character, or a "daughter" character. There's no need for you to actually act, or even memorize your own dialogues.
The script is always about a wandering storyline that needs to have a cliffhanger at the end of every episode, and an even bigger cliffhanger at the end of the week.
Actors are always prompted, and there's absolutely no continuity, no coherency in the story, and no interest in making it so. This is one reason why I don't do so much work on TV.
This isn't to say that there's anything wrong with the whole concept. I understand that it gives creative satisfaction to many; it is the livelihood of artists and is entertaining to many others. Unfortunately, it doesn't satisfy my artist's ego. For me, work satisfaction means more than money.
How would you differentiate between the stage, cinema and TV?
When I first started doing plays, there was very little to work with in the technical department. I have worked on 3500-4000 performances so far, and everything has involved me completely.
When I entered cinema, the first thing that struck me was how many conveniences cinema has: cinematography, editing, audiography -- the list is endless. There is so much room for scientific development. And the scripts themselves are very interesting.
In TV though, everything is still ruled by one giant litmus test: the TRP ratings. It basically works like telling stories to a child: the intention is to keep rolling off words until he/she falls asleep. If the child is still awake, then you keep spinning the story until he/she falls asleep out of exhaustion.
What can you tell us about Nadhaswaram?
It's a completely different attempt on TV. The director, Thirumurugan is one of those rare persons with whom I share the same wavelength. I was impressed with the characters he narrated, the well-defined script and the way he balanced everything throughout. I could identify myself with the story. The best thing about him is that he, like me, realizes that serials are not just about entertainment; they need to reinforce values as well. I cannot stress enough the importance of imparting good values through this powerful medium, and this serial does that very well.
Can you share details about your character in the serial?
I play a nadhaswaram artist who hails from a respectable family though not too rich. I'm not a very gifted player either, like Mridanga Chakravarthy or something [laughs] but I am connected to the temple, and play at the events and festivities connected to it.
It's a relationship that involves trust, and my character is very keen on seeing to it that his duties are fulfilled. You see, the people in the village and the temple itself, trust me to do my part, and that is a very important aspect of my life.
Likewise, my character wishes to see that his family also has a peaceful existence; that there are no mistakes and unpleasantness. But families will be families. In the serial, my son doesn't want to be a nadhaswaram artist; he would much rather be a tailor. And I have three or four girls of marriageable age whom I have to settle. There are problems galore.
In fact, there's a dialogue I use in the serial. "I plug the holes in my nadhaswaram to produce music, but I cannot plug the holes in my family …"
What was it like, shooting for Nadhaswaram?
Excellent. Thirumurugan is the kind of director who takes intense care of every single detail. For example, if we need to shoot in a police station or hospital in Karaikudi, we actually shoot the sequences on location. There are instances when I have been involved in shoots that supposedly happen on location but in reality, we simply shoot in Chennai. But for Nadhaswaram, every care is taken to bring in authenticity.
Say, we need to shoot in Thiruppullaani -- it is a small village more than a hundred kms from Karaikudi -- we actually go there. Ask Thirumurugan why we go to all that trouble and he'll give you a convincing explanation like the mud is different in these regions. In Karaikudi it is brownish-red; in Thiruppullaani it is almost white. People who watch the serial from these parts will instantly note the difference, and they will appreciate the effort we put in.
Honestly, there are no lapses in his direction, because he takes some good care of detail. You cannot see another serial like this one on TV.
Another aspect is that, apart from artists like me and Poovilangu Mohan, everyone else is new. We auditioned in areas all over Tamil Nadu and chose people who are suitable for the role. Because we shot in actual locations, we were ferried everywhere by bus, put up in hotels and given every care necessary.
Thirumurugan made sure we all had umpteen rehearsals before the new artists were word-perfect and would be able to perform without prompting. After such hard work, they have all come up very well. I am very sure they will shape into good artists.
You have been working consistently in movies, right from Nizhal Nijamagiradhu to Poi Solla Porom, Thiru Thiru Thuru Thuru and Irumbu Kottai Murattu Singam. What are your current movie projects?
Right now, I'm working on a Tamil/Telugu movie titled 180 directed by Jayendra. It stars Siddharth. Usually, such bi-lingual projects have the artists speaking predominantly in Tamil or Telugu, and the rest is dubbed. Here, though, every shot is done individually, in each language. So far, everything has been good.
What do you think is the current state of Tamil drama? Will you ever do a comeback?
Tamil drama, I think, has been doing quite well. Artists such as S Ve Shekar and Mohan work consistently to bring good work on stage. People know that they are guaranteed a few hours of laughter and are willing to see them. The ticket prices have sky-rocketed; people pay as much as Rs 500 for a show! They bring their children too.
Drama itself has changed in the last 27-28 years. It is not what it was, when I first entered the field. The facilities are different. In my days, we would hold day jobs, take time off from drama and go out station for shows. I am not sure it is the same now.
But yes, I have plans for a comeback. I have a few ideas, and am entertaining the idea of coming back to the stage.
Watch Nadhaswaram at 7.30 pm on weekdays, on SUN TV.