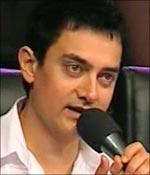 Aamir Khan is undoubtedly the best marketing whizkid in tinsel town. It was proved once again this Monday when he -- along with the entire Peepli Live team -- turned up in Indian Idol to promote the film.
The show, in its final week now, has changed its format. Each contestant has to sing two songs and get judged according to that. On Monday, the first round consisted of golden classics while the second round saw the singers belt out Aamir Khan's hit numbers.
The show started with melodious Rakesh Manin's Chunri Sambhal Gori, an R D Burman compositionoriginally sang by Manna Dey. He did a good job as usual and managed to impress everyone. Sunidhi even felt that Rakesh was able to create the folksy effect that Manna Dey had in the original version. Anu Malik went one step further and commented that Rakesh may snatch the Indian Idol title from Sreeram this year.
Next, Manin sang Chand Sifarish from Fanaa and outperformed everyone. He got the notes right, the feel perfect and so happy was Sunidhi that she gave the youngster a tight hug!
Bhoomi Trivedi sang Kajra Mohabbatwala with ease. She did a good job and Sunidhi and Anu were all praises for her. Salim, however, felt she could have done better. She excelled in her next number, Yai re Yai re, from Rangeela. She floored the judges and one could see Aamir drumming his fingers to the beat.
Sreeram sang last and was a pleasure to listen to, as always. In the classics section, he sang an extremely tough song, Salil Chowdhury's Aake Seedhi Lagi from Half Ticket. In the song, Kishore Kumar had sung in both the voices -- male and female. Sreeram did full justice to the song. To complete the effect, he also dressed up in a ghagra and dhoti. Aamir called it an unbelievable performance. Anu mentioned that the very fact that Sreeram sang such a song at this stage speaks volumes of his confidence.
Monday's episode ended with performances of Indian Ocean and the cast of Peepli Live. To make it a complete entertainment package, Aamir playing the drums and the piano.
Tuesday's episode began with Sunidhi Chauhan and Rakesh Manin's duet Soniye. Rakesh was at his best and not nervous with having to sing with an established singer like Sunidhi. In the second round, they sang Hey Shona. So perfect was the rendition that Anu Malik commented that he felt he was hearing the original version. Salim also mentioned that Rakesh was flawless in both the songs.
It was not the same with Bhoomi though. She seemed overawed by Sunidhi's presence and was very tense. The girls sang Mehboob Mere Mehboob from Fiza and Tauba Tauba. While Bhoomi was too tense in the first number, she regained some of her confidence in the second.
The versatile and consistent Sreeram sang two tough songs, Mere Haath and Saiyaan, and as expected he gave an extremely powerful performance with Sunidhi. Sreeram even enacted and danced to the songs which impressed Sunidhi.
The Idol contestants will perform with Udit Narayan and Shaan later this week.