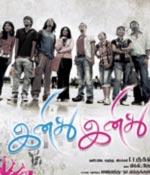 Pavithra Srinivasan reviews the Tamil album, Inidhu Inidhu.
Following a slew of classy movies comes yet another from Prakashraj's Duet Movies -- Inidhu Inidhu, a remake of the successful youthful Telugu movie, Happy Days by Shekar Kammula.
The heavily promoted Tamil version, directed by K V Guhan stars a whole host of debutants, and has music tuned by Mickey J Meyer.
Here's a dekho at what the album has to offer.
First up is Ammakkale which starts off with a burst of synthesized music, drums and mellow notes. A sort of anthem of the today's youth, this one is all about cell phones, the Internet and the carefree days of youngsters. Rendered by Adithya, Mickey J Meyer, Kranti, Sasikiran, Siddharth and Krishna Chaithanya, the song, in a bid to sound properly Thamizh, lists out a number of southern TN towns, and claims Sunitha Williams as a relative even as it cruises in western fashion. There's a very distinct whiff of A R Rahman's Vande Mataram in the second interlude, even as it mingles with classical music. It's youthful and enthusiastic, as it promises to teach America some valuable lessons in unity. A mildly pleasant number but run-of-the-mill.
Ennangal Vaannoki begins very slowly and melodiously, but the magic drops slightly when you encounter the very shrill voice of Kalyani. What she sings about is nice enough to listen to, but the memory of A R Rahman's Putham Puthu Bhoomi is inescapable. The spoken lyrics are a pleasant variation from the usual, though. The sweetness of the instrumental melange does appeal to you. Though you've heard it before, a certain sincerity in the rendition gets to you.
With a staccato rhythm and a robotic voice kicks off Inbam Ethirilae, sung with futuristic abandon by Karthik and Timmy. A vein of classical music runs through the proceedings as well; rap contributes its bit too. This one is also about the pull of youth and the need to have fun.
Karthik sounds remarkably like veteran S P Balasubramanium as he sings Inidhu Inidhu, which is all about the little joys and excitements of college life that make it so charming. The song retains a good deal of the syrupy sweetness that usually characterizes such songs. It has been retained from the Telugu original Arere and though it sounds familiar, it has an appeal that makes it a pleasing listen.
Kalloori Thayeh is almost a completely western song that has Thamizh lyrics. Mickey J Meyer's American accent might have something to do with it. It celebrates "mother college" and as expected, is the farewell song that is part and parcel of every college album that's worth its name. The last few moments that rise in a grand crescendo tug at your heart, but that's about it.
Naresh Iyer's soft voice has a smidgen of angst as he sings Kodi Kanavu Kannil, which sounds completely inspired from Inidhu Inidhu itself but it retains much of the goodness from the other song as well. Yet another sweet number.
Karthik returns to sing Vaazhkai Oru, a song that celebrates friendship and proceeds along the slow, steady pace that's a staple for such songs.
The movie and the music were great successes in Telugu, and no doubt the music director has aimed to re-create the effect here. Overall, the album sounds happy, peppy and enthusiastic except that it overdoes it at some points.
All the songs -- meant to strike a chord with those who cherish college life -- manage to sound the same and echoes some of A R Rahman's earliest works.
Still, there's an appeal to some of them, especially Inidhu Inidhu, Kodi Kanavu and Vaazhkai Oru that rises above the general tone of the collection.
Rediff Rating: