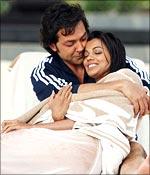 Sunil Sharma reviews Help.
This Friday's release Help sees Bobby Deol return to the marquee, this time opposite Mugdha Godse. The horror film has been directed by debutant Rajeev Manoj Virani.
A mild heart attack to father-in-law brings Vic (Deol) and wife Pia (Godse) to Mauritius. Vic, a movie director, is trying hard to steady his relationship with his wife. It begins to look smooth after Pia reveals her pregnancy and then a redundant romantic number comes in.
Pia's Mauritius abode is a tomb fortified with mysterious memories. Soon the memories unravel and she claims to see her long dead twin sister around in the house. This is demonstrated with the customary sense of feeling someone lurking behind and a relieving disappointment in finding no one.
Vic pays no heed initially. After a series of deaths of family members, Vic starts believing her.
As an unknown force tries to posses her, Vic toils hard to unfold the mystery. He is guided by a parapsychologist, Dr Aditya Motwani (Shreyas Talpade). Despite digging deep into Pia's childhood, the puzzle only gets more complicated.
The second half of the movie is edgier with debutant director exhibiting his cinematographic skills to its fullest. The slow built up gives way to a nail-biting finale.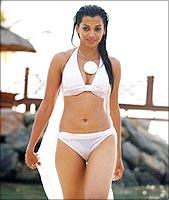 The special effects are quite overwhelming. Some of the scenes send a chill down your spine.
Many scenes resemble a Hollywood-like experience, which is hardly found in Hindi horror flicks. The enthralling opening scene depicts darkness and morose to perfection. It's like Sin City revisited and makes director Virani look promising.
Despite average performances from Bobby and Mugdha, much of the credit goes to the production team.
The background score, however, gets too loud at times. It tries too hard to scare and only ends up as noise.
Help could have been more convincing and edgy just by doing away with the unnecessary songs.
After watching the film, one wonders why its promotion was so off. Mugdha's bikini shot sure did not make the film look like a horror film.
Rediff Rating: