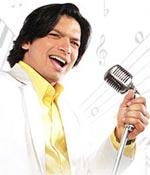 The final week of Indian Idol continued to be exciting with the top three contestants getting the opportunity to sing with the big names of the music industry -- Sunidhi Chauhan, Udit Narayan and Shaan.
The singers made the contestants very comfortable and it was a pleasant experience listening to them. It was unadulterated music flowing from the stages of Indian Idol.
For Udit Narayan, it was homecoming in a way because he had judged Indian Idol in its third season.
The show began with Udit Narayan and Bhoomi singing the title song of Partner. Bhoomi seemed to have overcome the nervousness that pulled her down on Tuesday. She was confident, charming and near-perfect. The judges gave a thumbs up to her.
Sreeram and Udit joined hands for the immensely popular and hummable number from Swades, Yunhi Chala Chal. They were flawless.
Rakesh Maini, the next contestant to sing with Udit, changed the mood when he sang Ae Ajnabi from Dil Se. He proved once again what practice can do to a person. Not only has he improved steadily every week, one feels he has reached closed to his nadir. Post performance, Salim told Rakesh that he wanted to vote for him for as many times as Rakesh wanted.
While Udit was at home in Indian Idol, for Shaan this was the first time on the stage of this show. It was natural for the charming singer to floor everyone with his presence. And that is exactly what he did.
Bhoomi once again kicked off the episode singing Gazab from Aa Dekhe Zara with Shaan. It was a song she was very comfortable with and Sunidhi applauded her with some generous remarks.
Sreeram was the next in line and sang the peppy Rock and Roll Soniye from Kabhi Alvida Na Kehna with Shaan. The song was quite different from what Sreeram had sung with Udit, and he proved his versatility once again. The episode ended with Rakesh's powerful rendition of Woh Pehli Baar.
A lot of credit for the success of these two episodes go to Shaan and Udit Narayan for making the contestants comfortable. With just a few days to go, one feels it may be either Sreeram or Rakesh who will be the next Idol. Or, it could be a girl once again.