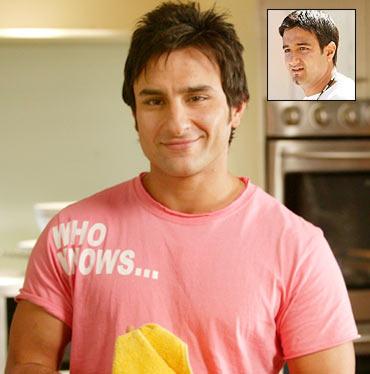 Saif Ali Khan may have had a late start in the Hindi film industry but there's no denying that the actor is one of the best today.
He has given us many great performances, and lots of good films through the years. On his 40th birthday, we celebrate the actor by speaking to his Salaam Namaste director Siddharth Anand (inset).
Anand, who was also the screenplay writer, executive producer and associate director of Hum Tum, directed the actor in Ta Ra Rum Pum as well. He gives Nithya Ramani a closer look at the actor.
Saif and I got close during the making of Hum Tum. It was then that I got the idea of Salaam Namaste and made Nick's character based on Saif.
He didn't have the reputation of being able to pull off a film as the solo hero. But luckily for me, Hum Tum did well and he became a bankable solo hero.
Saif is a true nawab when it comes to style. He is very moody but I think all actors are. You need to know him well to like him. Not everybody can get to know him well and not many may like him immediately.
He has a great sense of humour. I will go on record to say that he knows acting better than many other actors. He has a great sense of cinema. I guess that runs in the family. He reads a lot of books on cinema like biographies and autobiographies of legendary actors.
Saif and I never discuss films. I don't think we've ever had a sensible conversation. We have always had fun, meaningless  conversation. We joke and pull each other's leg all the time.
He gets into the flesh, blood and soul of the character. It takes him time to do that but when he does, he does it so well.
When we stared shooting for Salaam Namaste, he was already shooting for Parineeta. When he would come on the sets, he would look lost. He would be arrogant and quiet. But that wasn't how Nick -- his character in Salaam Namaste -- was.
The first two days of shooting were tough. Later, when I spoke to him, I realised he was still being Shekher (his character in Parineeta). He goes into the character that deeply. I had to tell him that he was no longer Shekher on my sets but Nick and that he had to snap out of it. It took him a while but I got my Nick soon.
I remember shooting the beach scene in Salaam Namaste, where a child troubles Nick. Nick responds by saying, 'This is why I don't like kids.' Though that was a part of the scene, Nick did not react the way I had imagined because he was still in his Parineeta mode. But I decided to retain that shot.
Saif is not a method actor. He's very natural. I think he is the best actor Indian cinema has ever had. But there is still more for him to achieve. I think people don't take him seriously because he pulls off comedy roles very well. Doing comedy is serious business. Today, he has a production house of his own and is doing exceptionally well. I hope his (upcoming home production) Agent Vinod does well. He is a very passionate man. He puts in his very best into whatever he takes up.
We have worked together in Hum Tum, Salaam Namaste and Ta Ra Rum Pum, and have always celebrated my birthday on the sets. He's a maha kanjoos (big miser). But on my birthday during the shooting of Ta Ra Rum Pum, he came with a neatly wrapped box. When I opened it, I saw a Nokia handsfree. I couldn't believe my eyes!
I am planning to do another film with him next year.
I would like to wish Saif a very Happy Birthday. He has everything he wants and has a lot going for him.
Download Saif Ali Khan wallpapers, ringtones!