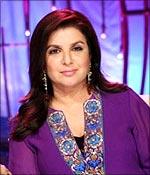 Tonight, Farah Khan will get busy judging her 10th reality show on television. The third season of Entertainment Ke Liye Kuch Bhi Karega will take off today, and we will see her whacky side once again. Accompanying her, will be co-judge Anu Malik.
Khan tells Rajul Hegde what to expect.
You are doing back-to-back reality shows on TV, after Zee TV's Dance India Dance.
Yes. I am enjoying it. But I will need a break after this. You will also need a break from me (smiles)!
What makes you come back for this show?
Firstly, it's convenient for me because I shoot very close to my place.
Another reason is that it is up my alley and I enjoy this show. Other than logistics, I don't think anyone is capable of judging this show more than Anu Malik and me because we are as mad as the contestants. And we don't take ourselves very seriously.
How will this season be different?
This season will be more interactive, as the judges will perform with the participants on a few occasions. They have made us do magic tricks or dance with the participants.
How is it to judge with Anu Malik again?
It's an art to handle Anu because he goes on and on. You have to enjoy his madness or else it will get on your nerves. I enjoy it because I can tell him to shut up as we have been friends for a very long time. I have seen Sunidhi (Chauhan) and Salim (Merchant) on Indian idol. They don't enjoy his madness; take it seriously and get annoyed.
Your brother Sajid Khan is judging a similar show India has got talent on another channel.
I watched the first episode and I think Sajid is very good. What is nice about us is that we don't put up an act. What you seen on screen is what we are. I thought he would be a lot funnier on the show. But he is taking his role very seriously.
Sajid and I don't discuss work. But he made me comfortable on TV by taking me along for interviews and shows. Now I have more experience in judging reality shows than him.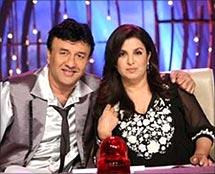 Do Sajid and you plan to make a movie together?
Only if you want to see us kill each other (smiles).
Judging together will be fabulous and interesting for both of us. Sajid is a funny and humorous person. But when he comes on screen, he becomes diplomatic. I have not learnt that yet.
You were feeling proud to see kids performing the martial arts. But on the other hand, your brother said no to a group performed a particular type of martial art on India has got talent. He also walked away from this seat after arguing with the other judges.
In fact, people should encourage their kids to learn some form of martial art. Even judo and karate are martial arts but they are not considered offensive.
Can you talk about your next film Tees Maar Khan?
I will be busy working on that for the next one month, as it has to be completed and released on December 24.
Directing, choreographing, judging realty shows and taking care of your children must be quite difficult.
Yes, it's been tough juggling them. When my children see me on TV, they say it's a different mummy with make-up (smiles).
What are your plans for Rakhi?
I really don't know. Every year Sajid gives me 50 paise. I hope this time around he increases to one rupee (smiles).