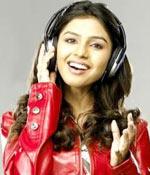 Tia Kar, one of the six top contestant of Indian Idol 5, has bagged an important role in two big banner films.
The first one is Pehli Baar Pyar Kiya Hai with Amitabh Bachchan, Dharmendra and newcomer Mohan Kapoor directed by Sridhar Shetty, while the second one is Happy Christmas with Akshay Kumar and Deepika Padukone directed by Aziz Mirza.
Tia confirmed the news. "Yes I am doing both the films. I play Amitabh Bachchan's daughter in Pehli Baar Pyaar Kiya Hai and an angel in Happy Christmas."
Does that mean singing will take a back seat now?
"Not at all. Music is my passion, I will continue singing but I will do meaningful films," she says.
Both the films are expected to go on floors in November.