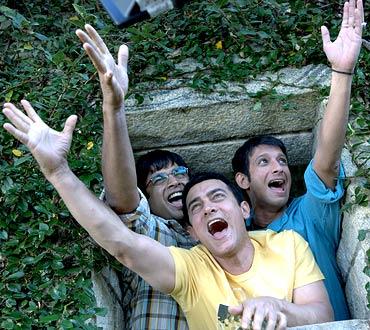 We asked readers to send us their favourite and funniest Bollywood bloopers they spotted.

Reader Aadil Allana shares with us a blooper that he spotted in the movie 3 Idiots.
In the scene where R Madhavan and Sharman Joshi go to Ladhak to meet Aamir Khan, they get very upset about the fact that Aamir had not met them in a long time. So as soon as they meet him, they slap him.
If you notice carefully, they slap him from left to right and Aamir's movement is from right to left. Isn't that a big goof up?
Have you spotted any Bollywood bloopers recently?
Tell us about your favourite and funniest! Keep the Bollywood bloopers coming, guys!
Also Read Ash-Salman's big mistake!
When Big B, Aamir goofed up!
Aamir Khan goofed up in Jo Jeeta Wohi Sikander
Bollywood's movie bloopers