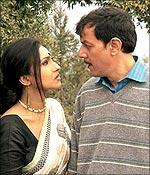 Preeti Arora reviews And Once Again.
As the name suggests And Once Again is film about the past. This isn't a Hindi film with an English title as is the trend these days (Wake Up Sid, New York). Neither is this film shot entirely in English. The characters switch between the two languages like a lot of people in urban India do. Surprisingly it helps the film flow.
Rajat Kapoor (Rishi Nag) is an IFS officer married to Rituparna Sengupta (Malu), a hot shot architect. Whilst visiting a monastery in Sikkim, Rajat believes he has spotted his ex-wife, Antra Mali (Savitri). But for all these years Rajat believed Savitri and his child Bunny were killed under gruesome circumstances. Is Rajat hallucinating? Did his wife really die? And if she isn't dead, what happens to this couple today. Will their relationship survive? Does Rajat want to return to the past?
Death is a certainty which always brings closure. But when -- due to human disasters like accidents, bombings -- people go missing, it creates a chasm in the life of their loved ones which is almost impossible to bridge. Even as Rajat Kapoor is making bold steps towards recovery, the past suddenly looms up and threatens to engulf them in a wave of misery.
The one strong highlight about And Once Again is the characterisation. Rajat Kapoor is a far cry from the Dil Chahta Hai days and he delivers an excellent performance as the IFS officer who has been to hell and back in every sense of the word. His angry outbursts, his nightmares, his ability to display his weaknesses makes us empathise with Rishi Nag at every step of the way.
Antara Mali (Ram Gopal Varma's discovery) was considered hot property in Bollywood. Her skin show often had the audience gasping for more. But in this film she takes up a role most established actresses would hesitate to touch with a bargepole. She has put on a considerable amount of weight, and plays a bald Buddhist monk. And yes, she manages to pull it off.
Rituparna Sengupta, thankfully, has restrained from overacting. And most of her important dialogues are in English which is a blessing. Her dialogue delivery in Hindi remains screechy even after a dozen films in Bollywood. She's the second wife who relentlessly pursued her husband for many years, finally convincing him to commit. But is she living in a fool's paradise?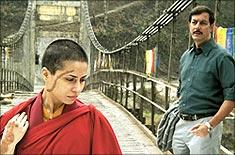 The major flaw of the film lies in the treatment. The film has been shot entirely in Sikkim, a tranquil and peaceful place. But the director has wasted so much footage on depicting the scenic and inherent beauty of the location, that one almost thought one was watching a Films Division documentary of the '70s.
The director, Amol Palekar, retains his earier style of film-making -- long slow shots -- which make it painful for the viewer. Also in the second half of the film, the storyline tends to go for a toss. So much pain and angst can never be resolved in a jiffy. And if that happens, it's bound to appear trite and simplistic.
Gerson Dacunha returns to the screen after many years. He plays Rituparna's father and Rajat's psychiatrist. But his performance falls flat.
And Once Again is an interesting premise which takes off well but meanders off mid-way. A better planned script and a tighter screenplay would have prevented the viewer from losing interest well before the end credits roll.
If romantic melodramas are your cup of tea, this film is perfect for you. But even the most ardent Amol Palekar fan will agree: this versatile director has delivered far superior films in the past.
Rediff Rating: