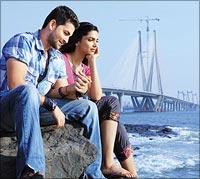 Sukanya Verma reviews Lafangey Parindey.
The Munnas and Siddhus of Mumbai's rundown alleys have unfailingly provided quote-worthy entertainment to the tapori-fascinated viewer.
Whether it's the threatening tone of their declarations, eye-catching paraphernalia or spunky choice of words, often a cleverly wrenched-out version of its source, tapori-speak is a marvel in its own. 
Filmmakers in Mumbai have not just understood its potential but often employed its clout to document some of the coolest portrayals of the roguish hero by the likes of Anil Kapoor, Sanjay Dutt and Aamir Khan.
This indispensible rawness that defines this lot is missing from Neil Nitin Mukesh's One Shot Nandu in Pradeep Sarkar's latest offering, Lafangey Parindey. 
No amount of grungy dressing, folded sleeves, studded gloves or faded denims can wipe off the golden gleam he's born with and highlighted intently in his previous works. Ditto for all the phony blood he keeps spitting out at every given opportunity. All the same, he underplays the improbability of it all with enough dignity to entirely fizzle. 
This is pretty much the case with Lafangey Parindey as well. It opens with an in-your-face voiceover, akin to Kaminey but reveals in the first few minutes itself that it's never going to wear the intricacy of Striker or emotionality of Mashaal. Sarkar's departure from kerchief capers (Parineeta, Laaga Chunari Mein Daag) is a sleekly-packaged potboiler with abundant implausibility that wowed us in the 1980s but commands very little respect today.
What can be best described as a twisted Kinara (yes, the one by Gulzar) of the uncivilized world, Lafangey Parindey is plotted around a ring fighter One Shot Nandu and ambitious dancer Pinky Palkar (Deepika Padukone) residing in same neighbourhood acquainted through a common group of grubby louts -- Chaddi, Gulkand and Diesel. 
In the wake of unforeseen circumstances, Nandu and Pinky are forced to collaborate as a team. In what context? That would be a spoiler. Needless to say, their proximity leads to the inevitable even as Nandu's secret jeopardises his chances of being with Pinky.
As in the case of most Bollywood-designed Maharashtrian mulgis, Pinky, in the same vein as Kaminey's Sweety Bhope (Priyanka Chopra), is a flirtatious, self-assured type. Unlike Sweety, however, Pinky's wardrobe is unbelievably chic and upscale for her income.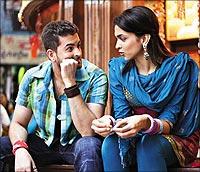 Moreover the lady who plays Pinky is too stiff to accommodate the changing graph of her character. Except in that one scene where Deepika's supposed to charge out of a water tank and push Neil with extreme force and shoot an expletive, there's simply no trace of passion in her voice or body language. She's quite a graceful roller skate dancer though.
But, considering the extent of beating she endures for this role -- loses sight, is bounced about, trips into a puddle, gets thrashed by a pile of smelly pomfrets and a lot of other ouch-worthy moments, Deepika is surprisingly unfazed, resulting in a bland performance.  
Making up for this lack of spirit, composer R Anandh's silvery score lend the proceedings an impressive blend of sentiment and soul. Like most Yashraj productions (they make it a point to remind you of this little detail by constantly plugging songs from their earlier movies), LP is a glossy product.
Cinematographer N Natarajan Subramaniam does a commendable job of capturing oft-seen Mumbai landmarks with a keen, sharper vision while choreographer duo Bosco-Caesar construct some elegant moves around roller skating. 
Ultimately Lafangey Parindey, like its attention-grabbing title, is unapologetically superficial with a brief attention span. It doesn't dwell too long on the possible complications or questions that may arise in its protagonist's lives and conveniently wiggles out of/wraps up any uneasy development.
Guess the makers can't blame us for reserving similar indifference towards the movie.
Rediff Rating: