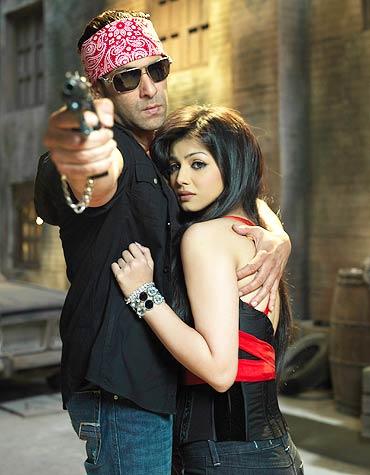 We asked readers to send us the funniest Bollywood bloopers they spotted.
Reader Ketan Thakkar shares with us a blooper that he spotted in the movie Wanted.

Throughout the film, Salman keeps on saying 'Ek baar jo maine commitment karta hoon toh mein apne aap ki bhi nahin sunta.'

In one another scene Salman says, 'Main aurton aur bachon par haath nahin uthata.'
But in one of the scenes Salman slaps a lady from the villian's gang as she is showing people an MMS video of the commisioner's daughter.
If Salman is shown so committed that he does not raise his hand on women and children, then why does he break his own commitment by hitting a woman?
Have you spotted any Bollywood bloopers recently?
Tell us about your favourite and funniest! Keep the Bollywood bloopers coming, guys!
Also Read When Aamir went wrong!
Ash-Salman's big mistake!
When Big B, Aamir goofed up!
Aamir Khan goofed up in Jo Jeeta Wohi Sikander
Bollywood's movie bloopers