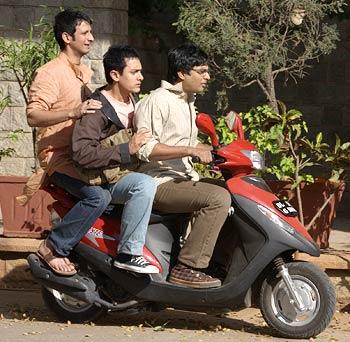 We asked readers to send us the funniest Bollywood bloopers they spotted.
Reader Namrata shares with us a blooper that she spotted in the movie 3 Idiots.

Farhan (R Madhavan) was born in 1978. So I guess his friends Rancho (Aamir Khan) and Raju (Sharman Joshi) are of the same age too. During the first year of engineering (that should be somewhere in the mid-90's), when student Joy (who later commits suicide) tries to talk to Virus (Boman Irani) about the date extension of his project, Virus hands him a cellphone and calls his dad on it, which I presume were not very popular then.
And cellphones were bulky, not sleek in those early cellphone days.
Taking dates into consideration, Youtube was founded in 2005. When Mona Singh goes into labour at the end, Pia (Kareena Kapoor) shows a video on Youtube. How is it possible?
Which begs the question: Is the film futuristic? Because 10 years after 2005 should be 2015.
Have you spotted any Bollywood bloopers recently?
Tell us about your favourite and funniest! Keep the Bollywood bloopers coming, guys!
Also Read When Salman broke his commitment
When Aamir went wrong!
Ash-Salman's big mistake!
When Big B, Aamir goofed up!
Aamir Khan goofed up in Jo Jeeta Wohi Sikander
Bollywood's movie bloopers