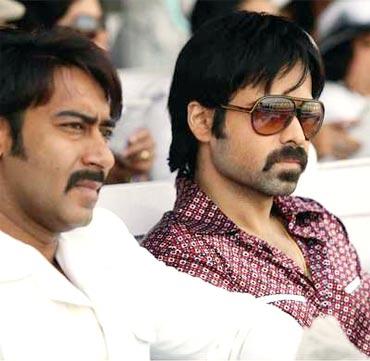 We asked readers to send us the funniest Bollywood bloopers they spotted.
Reader Anoop Samant shares with us a blooper that he spotted in the movie Once Upon A Time in Mumbaai.

Emraan Hashmi is shown as a kid stealing money from public phone booths along with this friend. Several years go by and the kids become adults and start doing bigger robberies.

On the other hand, Ajay Devgn and Kangna Ranaut, who were young when Emraan was a kid, have not aged and look the same even after so many years.
We wonder what the secret of their youthfulness is.
Have you spotted any Bollywood bloopers recently?
Tell us about your favourite and funniest! Keep the Bollywood bloopers coming, guys!
Also Read: The glaring goof-up in 3 Idiots
When Salman broke his commitment
When Aamir went wrong!
Ash-Salman's big mistake!
When Big B, Aamir goofed up!
Aamir Khan goofed up in Jo Jeeta Wohi Sikander
Bollywood's movie bloopers