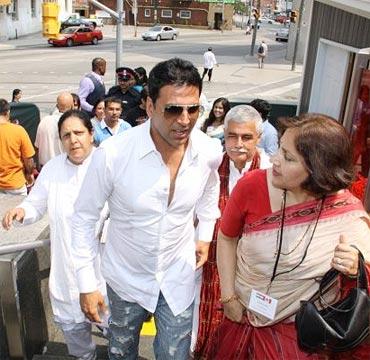 Akshay Kumar was the star attraction at the Indian Independence Day celebrations in Toronto.
So, quite naturally, the crowd went wild when Indian Consul General Preeti Saran announced his presence.
The casually dressed star infused energy into the celebrations that started in the morning with a flag-hoisting ceremony and the singing of the Indian and Canadian national anthems. Dozens of federal and provincial politicians were on stage when Saran hoisted the Indian flag.
"Your presence means a lot to us," Saran told the audience before the parade began. "It shows the close bonds you have with India. You are a shining example of the beautiful cultural mosaic that serves as a bridge between India and Canada and represents the best of both our values," she added.
She said Indian Prime Minister Manmohan Singh's visit to Canada for the G20 Summit in June, "infused vitality and content to our relationship (with Canada) and fostered closer cultural bonds between India and Canada."
"This has been a great year for us with regard to relations between India and Canada," said Harinder Takhar, the Ontario government services minister.
"The Prime Minister of India was in Toronto and some of us had the opportunity to meet him and tell him how well our community had done, especially in Ontario," added Takhar. He said they had discussed community issues, and Singh "assured us he would be more than pleased to set up a mechanism to discuss these issues."
Four horses of the Metro Toronto Police led the parade, which took two hours to cover a three kilometer distance. They were cheered every step of the way by spectators waving the tricolour.
From just two floats in the first year, the parade this year showcased a dozen floats. The Goa float was adjudged the best. "The judges (Ruth and Sudhir Handa and Jennifer Tory of the Royal Bank) rated the floats on various criteria, including participation, enthusiasm of the float participants, the decor, elements used, overall impact and design," Ajit Khanna, co-chair, Panorama India, said.
Another highlight of the celebrations was the India Bazaar set up at the square, which also included several booths on Indian spirituality. Since no Indian fair can be complete without samosas and pakoras, there were several stalls selling them.
Panorama India, a non-profit organisation, began celebrating the occasion 11 years ago, and attendance has been growing ever since.