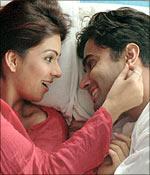 Preeti Arora reviews Antardwand. Life isn't always about a few laughs. There is always a darker side. But how bad can things get? Are values so different in a capital city such as Patna, and smaller towns just a few hours away? Is there a ray of hope for the younger generation? Evidently, no.
Children are raised with the sole intention of either fulfilling their parents' unfulfilled expectations -- as in the case of boys -- or elevating the families' social status -- where the girls are concerned -- by marriage into a more affluent family. Children are merely pawns, who can be moved around according to the wills of the fathers. 
Sushil Rajpal's directorial debut Antardwand is about Raghuvir (played by Raj Singh Chaudhury), studying in Delhi, hoping to crack the civil services examination. He has a girlfriend Siya. He decides to marry her, and returns to his hometown in Bihar to ask his father (played by Vinay Pathak) for his consent.
The father is, however, on his own ego trip. He feels he's the 'owner' of an eligible groom so he can be snooty, turn down proposals, ride roughshod over other people's feelings and get away with it.   
But his attitude seriously offends Akhilendra Mishra. So the latter hatches a plan to kidnap Raghuvir and hold him captive until he marries his daughter Janaki.
Even as Raghu is being held against his will, three lives are turned upside down, simply to satiate the male ego. The incident scars Siya, Raghu and Janaki -- unwilling participants in the entire drama – for life.  
A few minutes into the film and one is transported to rural Bihar, a place where women exist only to serve the men. Brutality is the norm, and even in daily life, violence continuously simmers below the surface. Dowry and physical abuse are accepted unquestioningly. Time has stood still for generations.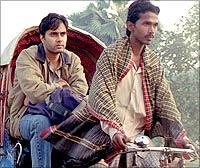 More than a social drama, Antardwand is actually a thriller merely because it's impossible to predict which direction the film will take. Thankfully, the film does not end in 'Bollywood' style.
The director obviously is familiar with the milieu and the film seems quite authentic. Shot on location with many amateurs playing small roles lends the film credibility. The interactions between the women and men might seem outdated to urban folk but that is the reality of smaller towns.
The film doesn't deviate from its storyline, and there are no subplots or forced humour. It has a tight script, and is edited well.
Antardwand was obviously shot a while ago because Vinay Pathak appears quite portly. But it will, in all probability, be relevant even 10 years down the line.  
The film is certainly a must-watch.
Rediff Rating: