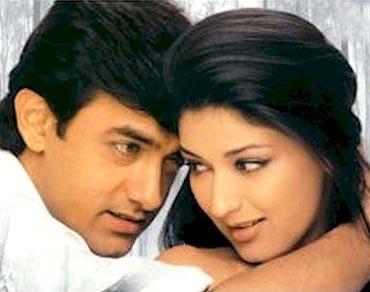 We asked readers to send us the funniest Bollywood bloopers they spotted.

Reader Aniket Sule shares with us a blooper that he spotted in the movie Sarfarosh.

In one of the scenes in Sarfarosh, Major Baig (Shri Vallabh Vyas) visits the office of a Pakistani General. It is assumed the office is in Pakistan. However, the map on the wall shows India with its different states marked in different colours. And as always, Pakistan is in one corner, with no colour for any states.

Further, the map shows the Jammu and Kashmir border, as per the official Indian version with Gilgit, Skardu and Aksai Chin shown as part of J&K. This is something that will not be accepted by Pakistan at all.
Have you spotted any Bollywood bloopers recently?
Tell us about your favourite and funniest! Keep the Bollywood bloopers coming, guys!
Also Read: Kuch Kuch goof up hota hai!
What is the secret of Ajay Devgn, Kangna's youthfulness?
The glaring goof-up in 3 Idiots
When Salman broke his commitment
When Aamir went wrong!
Ash-Salman's big mistake!
When Big B, Aamir goofed up!
Aamir Khan goofed up in Jo Jeeta Wohi Sikander
Bollywood's movie bloopers