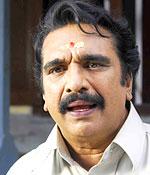 Remember the rowdy in Kireedom, who desperately tried to maintain his aura as a baddie? Or Eldho, the comic stage actor in Mannar Mathai Speaking? Or the boat owner in Punjabi House? Or Kunjikkoonan? Or Pathram? Or Soothradharan? The list is endless.
But that is the magic of Cochin Haneefa, 58 who succumbed to liver cancer on Tuesday in Chennai. His embalmed body, which was kept at the Kerala Samajam in Chennai for his fans in Tamil Nadu to pay homage, will be flown to Kochi where he will laid to rest on Wednesday.
The actor who played villain to the hilt was also a writer and director in Malayalam, Tamil and Hindi films.
Haneefa was a mimicry artiste at the early stages of his career. He entered tinsel world in 1972 with the film Azhimukham. Soon after he shone as a baddie in Malayalam and Tamil movies.
He excelled in comedy and character roles as well in films like Thalavattam, Kireedom, Kinnaripuzhayoram, Mannar Mathai Speaking, Meesa Madhavan, Es Parakkum Thalika, Megham, Sathyam shivam sundaram, Soothradharan (for which he won the Kerala State Award for best actor), Swapnakoodu and Udayananu Tharam.
Haneefa also proved his eminence as a writer-director in Paasa Paravaighal which had dialogues by the current Tamil Nadu Chief Minister M Karunanidhi, who expressed shock at his death.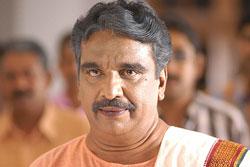 Haneefa also directed a few Malayalam films like Oru Sandesham Koodi, Moonnu Masangalkku Munpu, Aankiliyude Tharattu and Bheeshmacharya among others. But it is Valsalyam, scripted by Lohitadas and starring Mammootty which remains his best work.
He was not just a highly talented artist, but a great human being as well. Haneefa, whose real name was Salim Ahmad, had reserved histrionics for the screen and remained a genuine and warm person off screen.
Tamil cinema had a special place in his heart and he was often seen doing very good roles in that language. Most notable is Mahanadi, which had Kamal Hassan in the lead. His roles in Shankar's Anniyan and Sivajii were also much appreciated. His last film Vettaikaran with Vijay in the lead was recently released. In Malayalam, his last release was Bodyguard.
Now with his demise it will be his works which will keep our memories alive. Rest in peace, Cochin Haneefa.