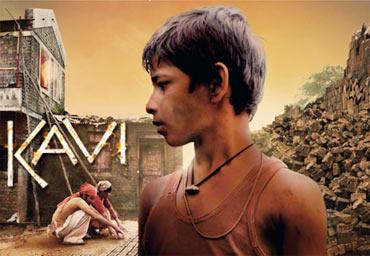 A Hindi film has been nominated for the Oscars.
Kavi, directed-produced-written by Gregg Helvey (Overexposed), has been nominated in "Short Film" (Live Action) category of 82nd Academy Awards.
It will compete with The Door (Juanita Wilson, James Flynn), Instead of Abracadabra (Patrik Eklund, Mathias Fjellstrom), Miracle Fish (Luke Doolan, Drew Bailey), and The New Tenants (Joachim Back, Tivi Magnusson).
Film revolves around Kavi, a boy in India, who wants to go to school and play cricket but is forced to work in a brick kiln as a modern-day slave.
This 19-minute fictional film is Helvey's University of Southern California thesis project. A feature length theatrical version is being planned. The movie website claims that about 27 million people are enslaved in the world today.
Filmed entirely on location in India, it was shot in eight days at Wai, near Satara, Maharashtra. "Does slavery still exist?" is the tagline of this award winning film, whose other crew includes John Harrison (cinematographer), Chris Witt (editor), and Patrick Kirst (music). Sagar Salunke plays Kavi.
The 82nd Academy Awards presentation will take place on March 7 in Hollywood.