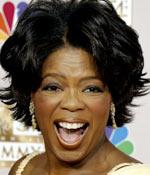 Oprah Winfrey is not leaving fans disappointed as her much-loved talk show goes off air in September 2011 -- the TV titan has announced a new series which will premiere on her network next year.
The series, Behind the Scenes: Oprah's 25th Season, will give Oprah Winfrey Show fans a behind-the-scenes look at the final season.
According to Forbes.com, the programme is expected to premiere in January 2011 on the newly launched Oprah Winfrey Network, reports the New York Daily News.
The series is believed to be a big boost to OWN -- a collaboration between Winfrey's Harpo Productions and Discovery Communications.