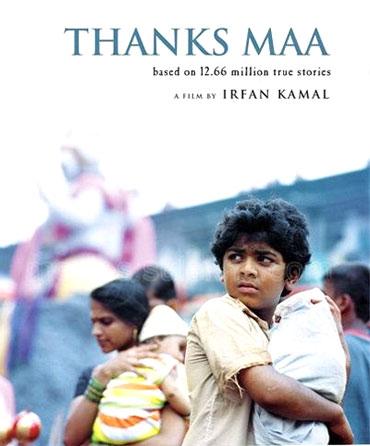 Shams Patel, the winner of the National award as best child artist for his role in Thanks Maa, would not be able to watch it in a theatre as the movie has been awarded 'A' certificate by the Censor Board.
"According to the Censor Board, the language used in the movie, incidentally by the children, is abusive and profane. Therefore, they have categorised it as an adult movie," director Irfan Kamal told PTI.
The director, who doubled up as the script writer for the movie, said that he had anticipated this categorisation. "I had anticipated a lot of problems including this. The Censor Board was lenient on many other accounts, except for giving the 'A' certificate," said Irfan, adding that this is the kind of language children living in slums use.
Meanwhile, the 13-year-old award-winning child artist is dejected that he would have to wait for at least five more years to watch the movie on the big screen. "I am very disappointed that I cannot watch the movie in a theatre along with my friends. I have not watched it at all. What I could catch till now was just a trailer of it," Shams said.
The teenager has made an appeal to the President, from whose hand he would be receiving the medal for Best Child Artist, to re-categorise the film as suitable for general viewing.