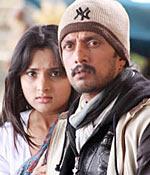 Just Math Mathalli (JMM) has generated a lot of interest mainly because it is an original script directed by Sudeep, who also acts in the film.
The Kannada movie movie revolves around Tanu and Sid played by Ramya and Sudeep. We are taken through Sid's romantic past in flashback mode. Sid short for Sidharth is pestered by Adi, his co-passenger on a flight to Singapore, to tell him his love story. Adi, a film writer, insists on knowing Sid's story as he has a gut feeling that the "interesting" love story will make for good cinema material.
Sid finally gives in and starts narrating his story. He is a singer who meets a girl called Tanu. The girl start developing feelings for him but he doesn't reciprocate her feelings, and doesn't say why, either.
Cut to the present. Sid tells Adi that he has now realised that he too loves Tanu and is going to Singapore -- where Tanu lives -- to win her back. Adi volunteers to help and even assures him of a happy ending. The search for Tanu and Adi's marriage track make up the second half of JMM.
The narration technique and balance maintained between dialogues and visuals stand out. Sudeep is convincing as both a recluse and a popular singer. Ramya looks good and is a perfect foil for the introvert Sid. Rajesh, who plays the spirited Adi, does justice to his role. Arun Sagar and Avinash are also part of the cast. Costumes add zing to the characters and make them very relatable.
Songs by Raghu Dixit form an integral part of the script. His Munjane manjalli and the title track Just Math Mathalli are particularly soothing.  
As for the comparisons between JMM and Jab We Met, the only thing in common between the two are the motormouth attitude of Tanu and Geet (played by Kareena Kapoor) and the railway station backdrop.
All in all JMM is for die-hard romantics.
Rediff Rating: