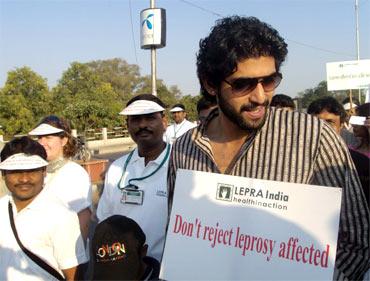 An actor taking up a social/medical cause is nothing new. But it is rare to find a budding actor, whose movie is not released yet, to lend support for a cause.
The Telugu actor in question is Rana Daggubati who participated in a 'Walk to Fight Leprosy' organised by LEPRA India, a NGO based in Hyderabad, on World Leprosy Day (January 31).
Rana has an impressive lineage as he is grandson of eminent producer and Guinness Book of World Records holder D Rama Naidu, son of producer Suresh Babu and nephew of superstar Venkatesh.
His debut film, Leader, directed by Sekhar Kammula is releasing on February 11.
Rana readily accepted the invite to support the cause and arrived on the dot for the event which kicked off at 7.30 am. Rana walked the two-kilometre stretch along with about 450 participants from People's Plaza to  Necklace road metro station beyond Raj Bhavan.
"The prejudice associated with leprosy is often worse than the disease itself. Millions are subjected to discrimination and social exclusion, limiting their opportunities for education, employment and marriage. I urge the community to end this discrimination, the ignorance, the fear and aid a life affected by leprosy," Rana said after flagging off the event.
En route, the actor shook hands with a leprosy-cured patient and cheerfully posed for photographs.