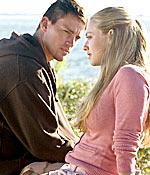 Dear John, a sentimental film set against American army background, autism and 9/11, broke quite a few records as it unseated Avatar in its eight week at the North American box office.
The Sony film, which was roasted by many critics, opened to an estimated $32.4 million weekend. It is heading for a $100 million run in North America, a significant gross for a film that cost just about $25 million. With a huge appeal to women, the movie featuring Channing Tatum (GI Joe: The Rise of Cobra, Public Enemies, Step Up) and Amanda Seyfried (Mamma Mia!, Mean Girls) had the biggest opening ever over the Super Bowl weekend beating the $31.1 million of Hannah Montana Miley Cyrus 3D concert film two years ago.
It is also the biggest opening for a film based on a novel by Nicholas Sparks, whose The Notebook grossed over $150 million worldwide in 2004.
The new film is the biggest opening for director Lasse Hallstrom (The Cider House Rules, The Hoax) and it could become his biggest hit.
Dear John is a romantic drama about a soldier, who falls for a conservative college student while he's home on leave. It also deals with a mild form of autism in the family. The destiny of the two lovers is challenged by 9/11 and the soldier's sudden departure to active duty. The movie, without sex and violence, could have a long run with the family audiences backing it up week after week.
'Dear John carefully distills selected elements of human experience and reduces them to a sweet and digestible syrup,' wrote The New York Times, giving the film a left-handed compliment. 'It may not be strong medicine, but it delivers an effective, pleasing dose of pure sentiment and vicarious heartache.'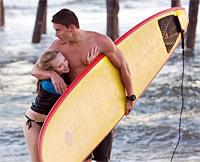 It added: 'In Mr Sparks's novels, of which there are now 15, impossible, star-crossed loves, often shadowed by illness and death, have an odd way of producing happy, or at least blissfully cathartic, endings. He is a master of the feel-good weepie, a form of mass-market deep-tissue massage.'
Director Hallstrom, who started his movie career in his native Sweden, making mildly sentimental but solid films like the 1985 delight My Life as a Dog, has spent about two decades in Hollywood often making successful films based on bestselling novels like The Cider House Rules by John Irving book. But when he has tried something more serious as with The Shipping News -- based on a more complex and Pulitzer Prize winning novel by Annie Proulx -- he has floundered artistically and commercially.
Avatar, which was hit hard by male fans watching the Super Bowl on Sunday, grossed an estimated $23.6 million in North America, with its total gross reaching $630 million. Worldwide, the Oscar-nominated film reigned as box office champ in its eighth week, grossing $76 million over the weekend. Its worldwide tally is $2.2 billion, according to distributor Fox. Hollywood analysts say it will top the $2.5 billion mark in about a month.
Fox has said its markets outside North America for Avatar are: China (total, $144.4 million), France ($141.4 million), Germany ($117.3 million), the UK ($114.7 million), Russia ($105.9 million) and Japan ($107 million). The film opened quite late in Italy, where it has grossed $70 million to date and is, as with Spain and Australia, on its way to the $100 million benchmark.