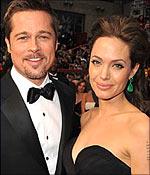 Angelina Jolie and Brad Pitt have sued The News Of the World newspaper for publishing false reports about the couple signing a divorce deal.
The paper had claimed that the pair had decided to separate and had agreed the division of assets and custody of their children.
Their lawyer, Keith Schilling, described the allegations 'widely republished by mainstream news outlets' as 'false and intrusive,' reports the BBC News.
He added the publication had failed to meet 'reasonable demands' for an apology.
Also, Sorrell Trope, who was identified by some publications as a divorce lawyer advising Pitt and Jolie, has clarified that he hasn't met the couple.
He said in a statement presented from Schillings Lawyers: 'I have had no contact from... Angelina Jolie and/or Brad Pitt.'
He added: 'I have never met... your clients or had any involvement with either of them. The foregoing is true with respect to all other members of this firm.'
The News Of The World had alleged last month that Pitt and Jolie had agreed to a 205- million-dollar split deal.